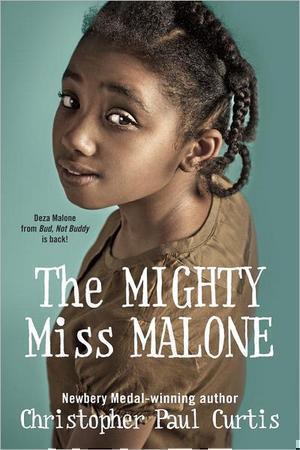 "THE MIGHTY MISS MALONE," by Christopher Paul Curtis, Wendy Lamb Books, Jan. 10, 2012, $15.99 (ages 9 and up)
Deza Malone is the smartest girl in her class. She's always first among her peers because she loves to learn. It's apparent to anyone who knows her, and especially her teacher, who expects Deza to do great things with her life.
But expectations and what actually happens are two different things.
The Great Depression hits Americans hard, and Deza's family, living in Gary, Ind., is struggling. Deza's father is without work and the likelihood of him finding something is very low. There just aren't any jobs for black men.
Deza's father moves to Michigan in search for work, and Deza feels as if her family is being ripped apart. Soon, Deza, her mother and older brother, Jimmie set out in search of the husband and father they love. The trio travels as far as a Hooverville outside Flint, Mich., before setting down some temporary roots. But even that doesn't last long, with Jimmie running off to Chicago to become a singer. Can this family split asunder ever be happy again?
"The Mighty Miss Malone" is a sophisticated read for 9 to 12-year-olds. Author Christopher Paul Curtis doesn't write down to his readers, rather he expects them to keep up.
There are a lot of sad, depressing, heavy topics covered here, though the book doesn't feel dark. The pacing, however, could have had better pacing, with the action building up and then grinding to a halt. A smoother ebb and flow might make for easier reading.
Where Curtis does excel is in setting the scene. There's no question that Deza's story takes place in the depression, nor is there any question that she comes from a loving family. Curtis also truly seems to get into Deza's head. Deza is smart and ambitious. And both her dreams and fears come across clear. The world through her eyes, though, isn't always clear, but perhaps that's the point — as readers we are experiencing things side-by-side with her.
"The Mighty Miss Malone" doesn't have a particularly satisfying end, though it is happy. That, too, appears to be on purpose. Things look up for the family, but they're not perfect. It's an ending probably closer to reality than many books for middle readers, though, and that's to be commended.
© 2012 – 2017, Cracking the Cover. All rights reserved.