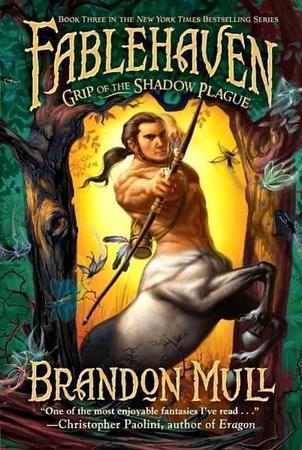 FABLEHAVEN: GRIP OF THE SHADOW PLAGUE, by Brandon Mull, Shadow Mountain, 487 pages, $7.99 (ages 9-12)
It took a while, but Utah-based author Brandon Mull and his Fablehaven series have finally hit their stride.
Like J.K. Rowling's "Harry Potter" books, the characters in "Fablehaven: Grip of the Shadow Plague" have evolved, the action has picked up and the story is more exciting.
It's been nearly two months since siblings Kendra and Seth Sorenson returned to their grandparents' farm and Fablehaven, and the future is as uncertain as ever.
There's a darkness making its way into the preserve, transforming creatures into dark beings with no sense of right or wrong. Though this darkness is discovered early, it soon becomes clear that it's on track to overrun the preserve and everything in it.
The Sorensons desperately need help, and there are few places to turn. The traitorous Vanessa is locked in the dungeon. Letting her out is risky, but she could have important information.
On top of the problems at Fablehaven, Kendra is asked to join the Knights of Dawn to search for another hidden artifact at the Lost Mesa preserve. Racing them to the artifact are members of the Society of the Evening Star, a dangerous group that's been causing havoc throughout the magical world.
Mull's writing is fast-paced and easily accessible. His characters continue to mature, and Seth's antics have become less annoying and more of a trait.
Seth now has an emotional attachment to preserve and its creatures. He's also developed some new skills that come as a welcome surprise when it seems all hope is lost.
Kendra is still responsible, but the weight of being fairykind is beginning to take its toll. Kendra faces life-altering decisions as she learns the depth of her fairy gifts.
The one drawback to "Shadow Plague" is there's not a lot of back-story. Readers will find themselves thrust into action, and without prior knowledge, they could get lost. Rereading the first two novels before diving into "Shadow Plague" is advised.
As with the previous Fablehaven books, there are fantasy elements throughout "Shadow Plague." And death, which is laced throughout the story, also plays a large role.
This is an exciting romp with more than a few questions left unanswered — the perfect setup for Kendra and Seth's adventures to continue in "Secrets of the Dragon Sanctuary."
*Originally reviewed April 20, 2008. Revisited Feb. 25, 2011.
© 2011 – 2017, Cracking the Cover. All rights reserved.