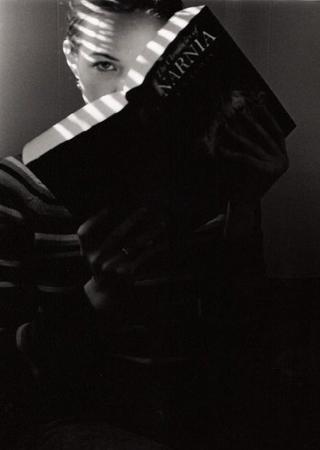 There once was a girl who lived in a valley surrounded by beautiful mountains. One of her greatest joys was reading. However, there was one thing holding this girl back — her eyes. The girl grew up and got married, and after a time, she decided to have surgery to correct her poor vision. No longer would she need finicky contacts or pencil-thick glasses. The surgery went well and all seemed fine. But the recovery did not go as planned, and her vision became temperamental at best.
I don't usually write about my personal life on Cracking the Cover, but as I sit in my office typing at 300 percent magnification, I feel like this is one life event I should share.
Eleven days ago I underwent PRK. I won't bore — or gross you out — with all the details of the surgery, but here's a little background. PRK is the precursor to LASIK and uses the same laser to treat the eye. The difference comes in the incision. Instead cutting a flap (LASIK), the outer layer of the cornea, or epithelium, is essentially scraped off and a contact bandage is applied following the procedure to aid in healing as the cells grow back.
My actual procedure went fine, but the recovery period has been rocky. There's been pain and lots of frustration leading up to this point. My vision fluctuates from "good" to "bad" at the drop of a hat. At one doctor appointment my vision reached 20/40, but at the next visit, it was 20/70. It's still not good enough to drive and I couldn't even attempt a return to work until yesterday.
This has been a humbling experience on multiple levels. I'm an independent person, and it's been hard to depend on others to not only cart me around but to read menus, explain what's going on in a TV show, or examine a piece of fruit for bruises at the grocery store.
Whenever I get sick, I like to curl up with a good book and whisk myself away from whatever is ailing me. In this case, I can't do that. And that has to be one of the most frustrating elements of all. I have piles of enticing books I can't wait to get my hands on, but I can't read the type — it's too small.
Prior to surgery, I wrote my little heart out, making sure I'd have posts ready for when I was laid up. Those posts have now run out. Over the next days, or possibly weeks, you will see fewer posts from me. I finished three or four YA and middle-reader novels prior to surgery that will be reviewed, and I have a number of larger-type picture books that I can explore. But the whole process from reading to writing to laying things out takes quite a bit more time when looking through blurred vision.
My eyes will heal — so I've been told — but it seems that I need a lesson in patience. I ask that you, too, will be patient. It's been a full year since I started Cracking the Cover, and I don't plan to quit anytime soon. Thank you all for your support, and happy reading!
© 2012, Cracking the Cover. All rights reserved.