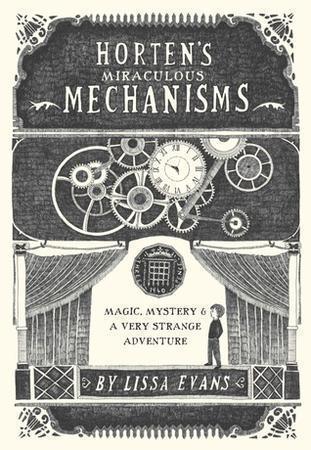 "HORTEN'S MIRACULOUS MECHANISMS: MAGIC, MYSTERY, & A VERY STRANGE ADVENTURE," by Lissa Evans, Sterling's Children's Books, hardcover, April 3, 2012,  $14.95 (ages 8 and up)
Are you a fan of the Lemony Snicket series? Are you looking for something else along those lines to wet your appetite? "Horten's Miraculous Mechanisms: Magic, Mystery, & A Very Strange Adventure" is the first of at least two charming books about a 10-year-old boy's adventures with magic, mystery and danger.
Stuart Horten is short for his age. In fact most people put him at 7 or 8 rather than his 10 years of age. It doesn't help that his name abbreviated is shorten (S. Horten) — he's heard all the shorty jokes. But Stuart has been able to adapt. He's got friends and is happy. That is until his parents decide to move at the beginning of the summer to his father's childhood home.
Stuart dreads the unexpected move, thinking nothing interesting could possibly happen. But that's before he learns about his great-uncle Tony — a famous magician who mysteriously disappeared years before. Tony left behind clues of how to finding his long-lost workshop. Inside the workshop there are supposedly magical wonders beyond anyone's imagination.
As Stuart starts on his hunt for Tony's workshop, he encounters nosy characters — some good and bad — who also have an interest in solving the mystery.
"Horten's Miraculous Mechanisms" is a quirky romp that is delightful from Page 1. Stuart is a likable young man. He's intelligent and clever, but he isn't perfect, either. Author Lissa Evans' story is fast-paced and engrossing. Her prose is easily accessible and plays to readers' imaginations rather than talking down or pandering.
I thoroughly enjoyed "Horten's Miraculous Mechanisms," and I can't wait for its follow-up this fall.