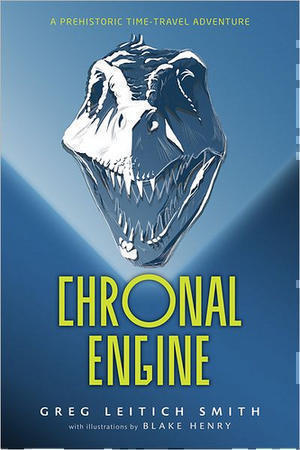 "Chronal Engine," by Greg Leitich Smith and Blake Henry, Clarion Books, March 20, 2012, hardcover, $16.99 (ages 10 and up)
Max's grandfather is crazy. He believes in time travel. So when Max and his sister, Emma, and brother, Kyle, are sent to live with the reclusive patriarch for the summer, they're none to excited. Everything about the situation is off, and things start to get really weird when the sibling's grandfather accurately predicts not only his own heart attack but the kidnapping of Emma, too.
When Emma disappears, Mike and Kyle are forced to believe that the stories surrounding the Chronal Engine (time machine) in the basement are true. With the help of their new friend, Petra, Max and Kyle take their grandfather's advice, pile into an old VW Bug and travel back in time to the Cretaceous period. That's right, to the time when dinosaurs ruled the earth. It's an adventure unlike any they could imagine, if only they can make it back to their time in one piece.
"Chronal Engine" was a surprising find. The cover is so-so, and didn't particularly grab my attention at first glance. The story blurb, however, did. With time travel, kidnapping and dinosaurs, it would be a great disappointment if "Chronal Engine" didn't live up to its parts. Thankfully, it does. At less than 200 pages, it's a fast book, and author Greg Leitich Smith doesn't waste any time getting to the action. There's just enough back information to set the scene and then the characters are racing off to their adventure.
All of Greg's characters have merits, but it's Max that readers really get to know. And because Max is about the age of the book's intended audience, it doesn't matter that the rest of the characters are older. Max loves paleontology, and provides a lot of the background information that helps build tension while encountering and running away from dinosaurs. Not many children his age would know such information, but for some reason, it just works. There's only one part of "Chronal Engine" that I didn't like, and that was the included illustrations. They felt a little disruptive and immature. That aside, "Chronal Engine" was an exciting one-sitting read.