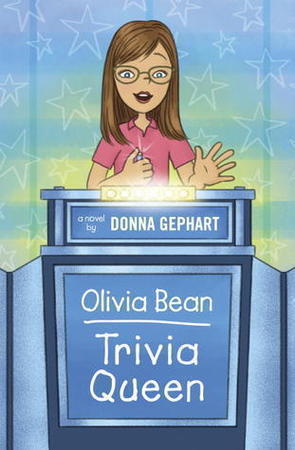 "OLIVIA BEAN TRIVIA QUEEN" by Donna Gephart, Delacorte Books for Young Readers, March 2012, Hardcover, $16.99 (ages 9-12)
"88 keys can be found on this instrument."
A great story of hard work, desire, and inner strength come alive through "Jeopardy!" trivia, a chance to be on the show, and a supportive family.
Olivia Bean, 12, is a big trivia fan and enjoys watching "Jeopardy!" every night — without interruptions. A younger 'bother' can be bribed easily so Olivia can watch on her own, but her Mom's boyfriend, Neil, is another disturber. Neil moved into the house not long after her Dad left two years ago, taking her best friend and her best friend's mom with him. Olivia feels lost without real friends, and her neighbor Tucker won't stop calling her names.
Studying trivia is Olivia's pastime, with a goal to someday be on the show, win money and visit California to see her dad and her best friend. If only Olivia were good at geography, she might have a chance. Tucker informs Olivia of the upcoming Kid's Week on "Jeopardy!" and helps her make her way to a dream come true. Tutoring Olivia in geography also leads to a strong friendship with Tucker — who isn't so bad after all.
Olivia's adventure on the show and her visit to California are enlightening as she learns more about her best friend's new life, how blessed she is in her life, and that Neil isn't as bad as it seems.
"Olivia Bean Trivia Queen" is an enjoyable, heartwarming story. I enjoyed this read simply because I could relate to some of the unspoken emotion Olivia felt. A recap of the Phillies' World Series win, interesting and gross trivia facts (supplied by her little brother), and a well-written, descriptive story of a young girl finding her own way lead to an entertaining and delightful read.
The answer to the trivia question: "What is the piano?"
© 2012 – 2017, Cracking the Cover. All rights reserved.