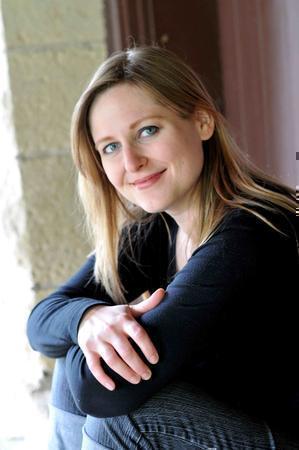 Every book starts somewhere, and for Jacqueline West, author of The Books of Elsewhere series, it began with the setting — a once-grand Victorian home she would pass every day on the way to middle school. The paint was peeling, its shady lawn overgrown and its windows always dark. The home was owned by a retired doctor who built small wind-powered machines, which were scattered across the lawn. When the wind blew, the machines would eerily spin, sparking questions in then-11-year-old Jacqueline's mind: "What kind of people would live in a house that looks like that?"
Years later, Jacqueline revisited those questions as she started putting the first book in the Books of Elsewhere series, "The Shadows," down on paper. "I wanted to use that house — or at least the idea of that house — as my starting point," Jacqueline told Cracking the Cover. "I wanted to put a modern, mathematical, hyper-logical family in an old-fashioned, magical, haunted setting, and see what would happen. So I moved the Dunwoodys into the McMartin mansion and everything else grew from there."
The Books of Elsewhere follow Olive Dunwoody as she discovers the mysteries held deep within the McMartin mansion. The mansion is fully furnished when the Dunwoodys move in, including creepy old paintings that are seemingly stuck to the walls. During her explorations of the mansion, Olive comes across some dusty old glasses that allow her to walk into the paintings and the land of Elsewhere.
Jacqueline began writing "The Shadows" while in college. Growing up, she was pretty sure that writing was outside her personal realm of possibility. And even after years of practice, she says she was afraid to call herself a "writer." Instead, she went to college for vocal music (with a minor in English) and moved on to graduate school for voice. It was then she realized that she didn't actually want to be an opera singer.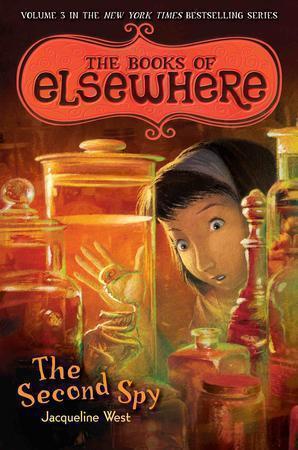 "I wanted to spend all day, every day, talking about stories and language and poetry and plays," she said. "So I became a high school English teacher. It was during my second year of teaching that I found an agent and signed a contract for 'The Shadows.'"
"The Shadows" was the first thing Jacqueline had ever tried writing for young readers. "It was a story that I wanted to tell, and it was something that I thought my younger self — and my two brothers — would have liked," she said. "When I finished it, I felt like I had finally put my feet into the right pair of shoes. 'Oh,' I thought. 'So this is what I'm supposed to be doing.'"
From the response Jacqueline's books have received, there's no doubt she's found her place. "Talking to kids who have read my books, and getting handwritten letters and crayon drawings and emails from young readers all over the world, is absolutely amazing," she said." They are the most enthusiastic, open-minded, well-read audience. Honestly, anyone who doesn't write for kids is missing out."
When Jacqueline first wrote "The Shadows," she thought of it as a stand-alone story. No one would want one, let alone two or three books, written by her was the assumption. She was wrong. "The funny thing was, as soon as my agent and my editor brought up the possibility of a sequel, I realized that "The Shadows" could not have been the end of Olive's story."
There are five books planned for the series, the most recent, "The Second Spy," hit bookstores earlier this month. And at the time of this interview, Jacqueline was just wrapping up revisions on Volume Four.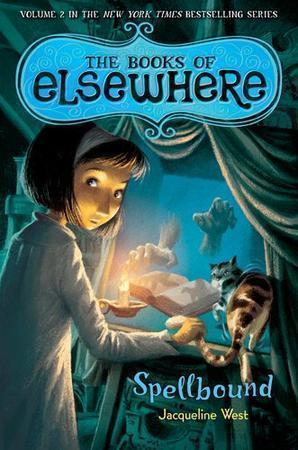 During her time working on The Books of Elsewhere, Jacqueline has learned about writing, and the process has been streamlined. "I started writing 'The Shadows' when I was a college student," she said. "It took eight years for me to finish it, find an agent, work with an editor, and get the book published. By the time I started work on 'Volume Two: Spellbound,' I was truly a different (and much older) person. The things that I learned from those intervening years of writing, and from teaching English, and from working with my amazing editor have all given me a much bigger set of tools than I had before. Writing still doesn't feel easy­ — and really, I hope it never does — but I've learned how to adapt, to solve problems, to look at situations in a variety of ways. … Also, my typing has gotten a lot faster. And my handwriting has gotten a lot worse."
Jacqueline says her books have found an audience with young readers who like the stories she likes: "Stories that are creepy but funny at the same time; stories that inject the real world with adventure and magic. I think—or at least I hope—that I haven't forgotten what it felt like to be a kid, or to have a kid's perspective on the world and its mysteries," she continued. "Plus, there's Harvey: a talking cat with multiple personalities and delusions of grandeur. They all really seem to like him."
*Jacqueline spent a lot of time and care answering Cracking the Cover's questions. Read a complete transcript of her interview and learn the origins of Olive's character and how three seemingly normal cats became animals with attitude.
*Read Cracking the Cover's reviews of "The Second Spy" and "Spellbound."
If you could walk inside a painting, what one would you choose?

Ooh… There are lots of paintings that would be fun to visit. I'd love to wander in Monet's or Van Gogh's worlds for a while, or slide around inside Salvador Dali's canvases, playing with squishy clocks and bouncing on rubbery boulders. But if I had to choose just one painting, I think it would be something by the Wisconsin painter Andy Van Schyndle, who creates these creepy, funny, surreal, magical, gorgeous worlds.  I'd probably go with "Light My Way Home Little Acorn Lantern," as I'm not sure I'd be welcome in Where the Cows Go, and the centipede on the carousel in "Forest Encounters" makes my skin crawl. (You can see some samples at wagalabagala.com.)

—Jacqueline West