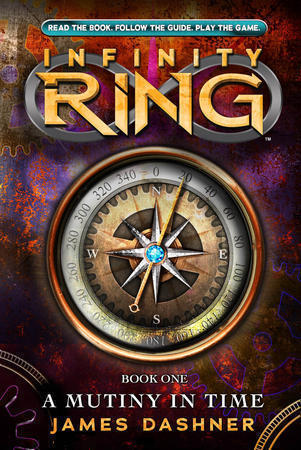 "Infinity Ring Book 1: A Mutiny in Time," by James Dashner, Scholastic, Aug. 28, 2012, Hardcover, $12.99 (ages 8 and up)
What if history was wrong? What if you could fix it?
That's the premise of Scholastic's new multi-platform series, the Infinity Ring.
Dak Smyth and Sera Froste are different than most kids. Dak is a history geek and Sera is a science nerd. While they don't have many friends, they have each other, which is just fine with them.
The friends live in a tenuous time. Natural disasters are ruining the world, and the occurrence of Remnants — the feeling of someone or something missing — is increasing.
Dak's parents are scientists, but he's not sure what exactly they're working on until the day he and Sera inadvertently come across the Infinity Ring in his parent's lab. Once complete, the Infinity Ring will be the key to time travel.
When Dak's parents learn the two friends have been messing around in their lab, they're furious. But that anger doesn't last too long, not once they realize that Sera has figured out the final part of the equation that makes the Infinity Ring work.
Excitement turns to fear, however, when a trip to the past results in Dak's parents behind. Dak and Sera return to their time only to find themselves swept up in a centuries-long secret war for the fate of mankind.
The friends are quickly recruited by the Hystorians, a secret society that dates back to Aristotle that has been tracking breaks in time. Time has gone off course, and it's up to Dak, Sera, and teenage Hystorian-in-training Riq to travel back in time and fix the breaks. First stop: 1492, when Columbus faced a mutiny sailing the ocean blue.
There's a lot happening in "Mutiny in Time" — author James Dashner is setting the stage for a seven-book, multi-author series and the actual story has to get under way. James does an excellent job of both. The premise and story feel like a cohesive whole, creating solid footing for the authors to follow.
Readers instantly get to know Dak and Sera, with their personalities and interesting quirks quickly brought to light. Both are likeable, and it's easy to root for them.
Scholastic made a wise choice in selecting James as the "architect" of sorts behind the Infinity Rings. Take "A Mutiny in Time. "At less than 200 pages, it's a short book. But a lot happens in a short amount of space. It takes a real talent to pull everything together and still hold the reader's attention. Not only does James accomplish that, he sets up real excitement for the next book in the series, "Divide and Conquer."
It remains to be seen how the series will play out, but if the other authors build upon what James has started, it's hard to imagine this series getting anything but better.
Learn more about the Infinity Ring series in Cracking the Cover's interview with James Dashner.