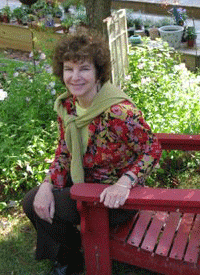 "There's something wonderful about reading a book when you're a child. Sometimes, in your memory, it's almost as if you were there yourself." —Deborah Hopkinson
Deborah Hopkinson loves history. That's why she writes about it. Kids are fascinated by it, too, she says.
"I think children are curious by nature, and if you don't tell them that history is supposed to be 'boring,' they'll naturally be interested," Deborah told Cracking the Cover. "Historical fiction is one of my favorite genres. I think all of us sometimes wonder what it would be like to live in another time and place. Or we can admire the courage of someone like Helen Keller and imagine what we would do when faced with the same incredible challenges."
Students are frequently drawn to high-interest topics like the sinking of the Titanic, Anne Frank or Helen Keller, but Deborah says those subjects can become springboards to all sorts of events from the past. "I think that the younger that children are introduced to history and how much fun it can be to explore the past, the more prepared they will be for academic studies," she said.
Deborah, who has penned some 30 books, wanted to be a writer since she was 10 years old, but it's not her full-time job. She currently serves vice president for advancement at Pacific Northwest College of Art in Portland. "While having two careers is challenging, it's also given me amazing opportunities to serve my community," she said.
The author's newest book, "Annie and Helen," comes out on Sept. 11. The book focuses on the relationship between Annie Sullivan and Helen Keller. Deborah her children were fascinated by Helen Keller, and when a photo of Helen Keller with her doll was recently rediscovered, Deborah decided it was time to look at their story with new eyes.
"Annie's process of discovering how to teach Helen is amazing," Deborah said. "And that became the focus for this book, which includes excerpts of Annie's letters during her first few months with Helen in the spring of 1887."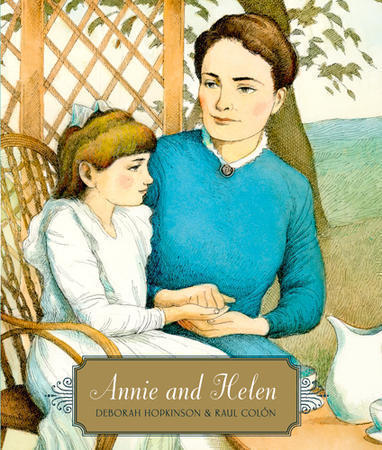 There's nothing better than beginning to research something new, Deborah says. In fact, there's a lot of research that goes into her most of books. For "Annie and Helen" Deborah turned to adult biographies, especially Joseph Lash's "Helen and Teacher," which served as her primary research sources. It was in the centennial edition of Keller's "The Story of My Life" that Deborah found Sullivan's letters to. Sophie Hopkins, her close friend and former housemother at Perkins School for the Blind. The staff at Perkins also made available many of the photos on the book's endpapers.
Simply finding something to write can be a challenge for Deborah who wants to find stories that young readers will enjoy. It's great for her to see that pay off. "One of the highlights of being a writer is traveling — visiting schools and libraries and attending conferences all over the country to meet people of all ages who care about learning and books."
Over the years, Deborah has become increasingly interested in how people think about history.  "I didn't take a lot of American history classes in college by any means, and through researching my own books, I think I have become better informed," she said.
"I'm also always looking for ways to continue to grow as a writer and to write books that play with traditional formats, she continued. "For instance, while my 2012 picture book, 'A Boy Called Dickens,' is actually historical fiction, 'Annie and Helen' is nonfiction. As more schools move toward adopting the Common Core Standards, which call for half of fourth-graders' reading to be informational, nonfiction will be increasingly important. And it's something I love to write."
*Read Cracking the Cover's review of "Annie and Helen." Read a complete transcript of Deborah's interview with Cracking the Cover.
Learn more about Deborah during the "Annie and Helen" blog tour.
Sept. 1:  Watch. Connect. Read
Sept. 1:  SharpRead
Sept. 2: Nerdy Book Club
Sept. 3: Bakers and Astronauts
Sept. 4: Two Writing Teachers
Sept. 5: Cracking the Cover
Sept. 6: Teach Mentor Texts
Sept. 7: Nonfiction Detectives
Sept. 8: Booking Mama
Sept. 9: Children's Book Review
Sept. 10: Random Acts of Reading
Sept. 11: 7 Impossible Things Before Breakfast
© 2012 – 2017, Cracking the Cover. All rights reserved. Unless otherwise noted, all books — digital and physical — have been provided for free by publishers in exchange for honest and unbiased reviews. All thoughts and opinions are those of the reviewer.