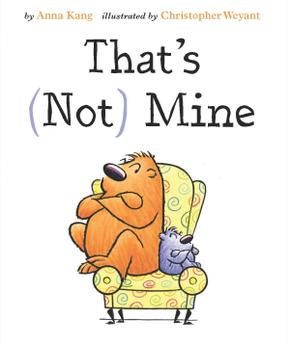 "THAT'S (NOT) MINE," by Anna Kang and Christopher Weyant, Two Lions, Sept. 1, 2015, Hardcover, $16.99 (ages 2-7)
Last summer, husband and wife team Anna Kang and Christopher Weyant released their first book together, "You Are (Not) Small." The book — featuring two fuzzy, bear-like creatures who can't agree on who is small and who is big — did so well the duo is back with a follow-up, "That's (Not) Mine."
"That's (Not) Mine" features the same loveable creatures fighting over who gets to sit in a comfy chair. Both of them think it belongs to them. One was sitting in it before; the other is sitting in it now. The two try to outmaneuver each other out of the chair until they end up in a heap on the floor. Suddenly they realize it's more fun playing together than quarreling and decide to go play instead.
Like its predecessor, "That's (Not) Mine" features simple text and bright, animated illustrations. It presents the concept of sharing in an easy and accessible way without feeling preachy. And it's fun whether you're trying to impart a lesson or not.
My one quibble with "That's (Not) Mine" is the publisher's suggested age range. While humorous, it's a bit simple for 7-year-olds. Truthfully, I think even a 6-year-old might get bored. Also, if your little one is younger than 2 but has started adding picture books (as opposed to board books) into their repertoire, I'd say this would work for them. My daughter is 18 months and loves it. My suggested age range: 18 months to 5 years.
© 2015 – 2017, Cracking the Cover. All rights reserved.