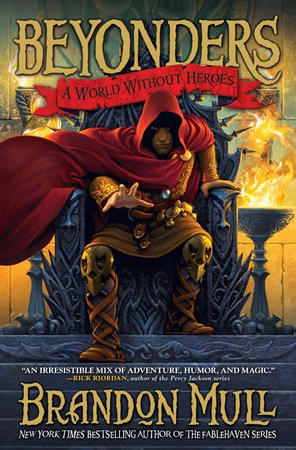 "THE BEYONDERS: A World Without Heroes," by Brandon Mull, Aladdin, $19.99 (ages 8-12)
A hippo, a blind prince and a hidden word. What do these three things have in common? They all play a role in Brandon Mull's latest fantasy book for middle readers, "The Beyonders: A World Without Heroes."
Jason's life is pretty predictable. Everyone expects him to follow in his father and brother's footsteps and one day enter dentistry. He's also a good athlete and a decent student. Jason has no real interest in becoming a dentist, but he enjoys animals, so a study of zoology seems a natural fit.
It all seems perfectly normal except the interest in zoology leads him to volunteer at a zoo where he is swallowed by a hippo and transported to a new world. And it's not just any world, but a strange one where visitors aren't welcome and neither are heroes. In fact there aren't any heroes.
In the past, visitors from the Beyond were welcomed and kingdoms were ruled by just and trusted men, but things have changed since the wizard emperor Maldor came to power. Those who resisted Maldor have been manipulated into complacency, and those who refused to be bought off are broken.
All Jason wants to do is find his way home, but a simple glance at a book changes everything. Suddenly, Jason finds himself on a quest to save the world from Maldor. Along the way, Jason meets Rachel, another Beyonder mysteriously plucked from our world. With the help of a few scattered rebels, the two piece together a puzzle that could be the emperor's downfall.
It took me a while to get into "A World Without Heroes." For the first 50 pages or so I felt like the writing was a little stiff, almost reporterly in its presentation. After that, however, the pacing stepped up and the style felt more comfortable. I don't know whether this change came because of improved writing or a greater interest in the story, but I'm glad it came.
Written by the same author of the Fablehaven series and geared toward the same age group, "A World Without Heroes" feels more mature on a number of levels. I think that comes from having characters that are a little older to begin with. The characters, especially Jason, seem to have more weight to them, as if they were further developed in the author's mind before putting pen to paper.
Brandon Mull's writing has also grown. With a five-book series already under his belt, he seems to have a greater understanding of where his story is going and the driving purpose behind it.
I love to see authors continue to develop after finding success. Brandon could easily have fallen back on his laurels. Instead, however, he has pushed himself, and that's apparent here.
Though I wish the beginning had a little more spark to it, "A World Without Heroes" is a fine read for fantasy fans young and old. Brandon has crafted a yarn with as many twists as a roller coaster, and I can't wait to see where he takes us next.