Each year, Cracking the Cover compiles a list of books that make great gifts. The following are picture books published in 2016.
AGES 2 AND UP
"ALL MY TREASURES: A Book of Joy," by Jo Witek and Christine Roussey, Abrams Appleseed, Aug. 23, 2016, Hardcover, $16.95 (ages 2-4)
When a young girl receives a porcelain box from her grandmother, she knows that it's special. And because the box is special, the girl immediately wants to put something special in it. But how do you fit jumping in puddles, flying a kite or watching a little sister's first steps inside a box?
"All My Treasures" is the fourth book in Jo Witek and Christine Roussey's Growing Hearts series. "In My Heart" is another one of our favorites. "All My Treasures" offers the same whimsical colored-pencil illustrations that are reminiscent of children's drawings. This time around there are flaps concealing hidden surprises sprinkled across the pages. The flaps are truly hidden and that makes them hard to open at times. It's definitely a book needs "adult" help. Once again, the writing is lyrical and expressive.
"HOW TO MEND A HEART," by Sara Gillingham, Random House Books for Young Readers, Dec. 22, 2015, Hardcover, $16.99 (ages 2 and up)
Emotions are a lot to deal with for people of any age, but for little ones, they are confusing and sometimes scary. "How to Mend a Heart" by Sara Gillingham aims to help children identify and cope with the first moments of heartbreak.
"How to Mend a Heart" takes a visual approach to this subject. A young boy attempts to mend his torn up elephant with thread and patches and a little help from friends and loved ones. Children tend to be very literal, and "How to Mend a Heart" is a great analogy that they can understand. Gilingham's illustrations are sweet and easily recognizable while still having a note a whimsy.
It's time to get to work down at the construction site, and mama and papa trucks are showing their little ones how to get the work done. Push oosh goes a big mama bulldozer and her one little dozer. Dig schlup goes a tough papa excavator and his two little excavators. And so it goes with different trucks scooping, mashing and spinning. Each turn of the page brings the count one step higher, culmintating with 10 little rollers getting work done.
If your child is a fan of anything construction, this is the book for them. It's rhythmic text paired with sound effects invites little ones to join in. Each truck has its own personality, making them fun to count.
---
AGES 3 AND UP
"MAX AT NIGHT," by Ed Vere, Sourcebooks Jabberwocky, Sept. 6, 2016, Hardcover, $16.99 (ages 3-6)
In the companion book to "Max the Brave!" Max is done being brave and ready for bed. Max is ready to sleep, but he needs to say good night first — "Good night, Fish. Good night, Box. Good night, Spider. Good night, Moon." Except, Moon is missing. Max can't sleep unless he says good night, and so he sets out to find his missing friend. As he heads outside, Max realizes the night is quiet and dark, and if he's going to find Moon, he's going to have to get a little higher.
"Max at Night" is one of those books that children will love reading over and over. My daughter wants to join Max as he climbs up and up and up. She helps blow away the clouds and exclaims "Moon!" alongside Max. The simple, enchanting story is immediately appealing in tone and plot, and you can't help but fall in love with the sweet title character.
"LIONHEART," by Richard Collingridge, David Fickling Books (distributed by Scholastic), Feb. 23, 2016, Hardcover, $17.99 (ages 3-5)
Richard doesn't believe in monsters — at least he thinks he doesn't — but when he hears a noise in his bedroom before bedtime, he's not so sure. Instead of waiting to find out, Richard starts running. He runs and he runs and he runs until he finds himself in a magical jungle. With the help of a special friend, Richard finds the courage to face fear head-on.
"Lionheart" is a beautiful book. Collingridge's illustrations are grand and detailed. Their bold colors and scope — both broad and narrow — are tailored for the text. But "Lionheart" isn't just a beautifully illustrated book. The writing is also very strong. The pacing is perfectly matched with the layout, creating emphasis with pauses and rhythmic sections. "Lionheart" is fun to read aloud, which is a huge plus for parents. The text is tight and flows smoothly. The overall story is enjoyable, and the illustrations add an extra layer for interaction with your young reader.
Little Bot is used to doing work, but when he isn't needed anymore, he gets thrown out with the garbage. After sitting for a long time, he meets a flock of birds. Saying hello scares all of them away except for Sparrow who decides to stay behind. Little Bot doesn't understand the world around him, but luckily Sparrow is there to take him under her wing. Together, they explore the forest, share adventures, and learn what it means to be forever friends.
"Little Bot and Sparrow" is a sweet tale of friendship. As with all good picture books Jake Parker's tale is equally supported by text and illustration. His use of full-page illustrations combined with white space help carry the story forward. "Little Bot and Sparrow" is more than a sweet tale, though, it also helps children understand that joy can come from sadness.
The littlest bear family you've ever seen has just moved to the woods. After getting settled, they begin exploring their new world. Along the way they meet new friends and have a few adventures and find that they truly are home.
Emily Winfield Martin's charming illustrations immediately pull you into "The Littlest Family's Big Day." You can't help but fall in love with the bears and their neighbors. The story is simple, but Martin's easy-to-read text offers a broader scope and also a sense of grounding. My 2 ½-year-old immediately fell in love with this one.
"ANIMALS," by Ingela P. Arrhenius, Candlewick Studio, Sept. 27, 2016, Hardcover, $22 (ages 3 and up)
Who said coffee table books were just for grownups? "Animals" is one of the most beautiful picture books I've seen in a long time. It's twice as big as a normal picture book and each page is a poster in and of itself. The graphic nature of each image is bold and unexpected. The pages aren't ordered in any specific manner (ABCs or 123s), but that, quite frankly, doesn't matter. "Animals" is a great introduction to art for art's sake. At 13×17 inches, "Animals" is very large, making it more of a lay-flat-on-the-floor (or table) and immerse yourself in it kind of book. My 2 ½-year-old can't keep her hands off of it. I bet yours won't be able to either.
"ALSO AN OCTOPUS," by Maggie Tokuda-Hall and Benji Davies, Candlewick, Oct. 4, 2016, Hardcover, $16.00 (ages 3-7)
"Every story starts the same way … with nothing." In this book it begins with an octopus who plays the ukulele. But that octopus needs to want something — something like a "totally awesome shining purple spaceship capable of intergalactic travel." And that octopus might get into some trouble along the way, so he might need a friend or two.
"Also an Octopus" is a silly story along the vein of "If You Give a Mouse a Cookie" with each decision building on the next. And while it does have that feel, it is also completely unique with bold illustrations and a humorous narrative that really becomes a starting point for so much more.
Once there were six little penguins — Tulip, Tiger Lily, Dandelion, Bluebell, Violet and Broccoli — who loved colors. One day, the penguins decide to make a surprise for their mama. They use red, orange, yellow, green, blue and purple to transform their snowy world.
"Penguins Love Colors" is a beautifully bold introduction to color. The black-and-white backdrop of the penguins contrasts well with the vibrant colors. And the penguins themselves are as cute as can be. My one complaint here is that author Sarah Aspinall didn't follow the ROYGBIV (red, orange, yellow, green, blue, indigo and violet) standard for the rainbow. Nonetheless, "Penguins Love Colors" is still an educational and entertaining read.
"TINYVILLE TOWN GETS TO WORK!," by Brian Biggs, Harry N. Abrams, Sept. 6, 2016, Hardcover, $16.95 (ages 3-5)
Tinyville Town is a place where everything is just right — everyone has a job to do and gets it done. But one morning, the bus is late, the trash collectors can't collect trash and the baker can't open his bakery. There's a traffic jam on the bridge, which isn't big enough anymore. The engineers and construction workers take the lead and work together to plan, build and open a new Tinyville bridge.
While author illustrator Brian Biggs has his own distinct style, Tinyville does call to mind Richard Scarry's classic books. Having grown up with Scarry's books, I appreciate Biggs' nod to them while still creating a world of his own. This is a book for children who want to know how things work. It's detailed enough to answer questions, but never feels overloaded. Biggs' characters are fun and diverse, making it easy for every child to place his or herself in the Tinyville world.
There are two other Tinyville books out now that focus on specific jobs — "I'm a Firefighter" and "I'm a Veterinarian." These are excellent board books for younger readers ages 2-4.
Once upon a time, there was a girl named Emily Elizabeth. Emily Elizabeth had a dog — a big red dog named Clifford. They were best friends that did everything together, even though Clifford's size posed interesting challenges. But no challenge was too big when the two faced it together.
Scholastic is banking on nostalgia big time with "Clifford the Big Red Dog: Vintage hardcover edition." And who could blame them? This is a reprint from Norman Bridwell's original 1963 edition, featuring the original two-color art and landscape trim size. We have the updated version, and I love comparing them side-to-side. It's fun to see what elements were updated and which ones remained. I particularly enjoy the emotion and framing used in the original.
I must not be the only one who likes the vintage editions, because Scholastic has another ("Clifford's Good Deeds") coming out at the end of December.
---
AGES 4 AND UP
"WE FOUND A HAT," by Jon Klassen, Candlewick, Oct. 11, 2016, Hardcover, $17.99 (ages 4-8)
Caldecott winner Jon Klassen returns to his world of hats ("I Want My Hat Back" & "This is Not My Hat") with "We Found a Hat." This time around, two turtles have found a hat. The hat looks good on both of them. But there are two turtles. And there is only one hat.
Like his previous books, Klassen's book features subtle humor that both parents and children love. He plays on visual cues — the shifting of eyes — to tell much of the story. The desert backdrop and turtles are depicted in Klassen's minimalistic style. The best part of "We Found a Hat," however, is the empathetic twist at the end. It's a departure from Klassen's first two hat books, and it's a charming surprise.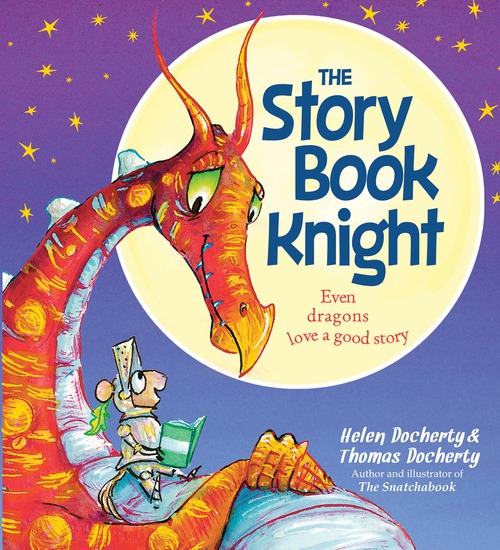 "THE STORYBOOK KNIGHT," by Helen Docherty and Thomas Docherty, Sourcebooks Jabberwocky, Sept. 6, 2016, Hardcover, $16.99 (ages 4-8)
As a knight, Leo's job is to fight, but he doesn't really see why. He'd rather spend his time reading. So when his parents see a dragon that needs taming, they decide to take matters into their own hands and load him up with a new shield and sword. Leo reluctantly agrees to go, but not before adding a few of his favorite books to the back of his faithful horse, Old Ned. Leo's path takes him past a fearsome griffin and a hungry troll before meeting up with an enormous dragon who's rather tired of pesky knights, but wouldn't mind a nice story. It turns out Leo doesn't have to fight after all, as long as he's got a good book to read.
"The Storybook Knight" is a charming picture book from the husband-wife team of Helen and Thomas Docherty ("The Snatchabook"). Helen's rhyming text rolls off the tongue and elicits smiles throughout, and Thomas' illustrations are bright and inviting. The publisher-suggested age for "The Storybook Knight" is 4, but based on the interest my 2 1/2 –year-old is already showing, I'd say 3-year-olds would like it just fine. Though very different, "The Storybook Knight" reminds me a lot of "Giraffe's Can't Dance." There's a timeless quality to it that will appeal to parents and children alike.
"DU IZ TAK?" by Carson Ellis, Candlewick, Oct. 18, 2016, Hardcover, $16.99 (ages 4-8)
Do you ever feel as if your young child has a language of his or her own? Carson Ellis brings you to middle ground by creating one of her own in "Du Iz Tak?" Watch the lifecycle of a plant through the eyes of garden inhabitants — damselflies, beetles and a pill bug to name a few.
"Du iz tak?" is genius in a number of ways: 1) It makes perfect sense that insects would have their own language 2) You don't have to know the language to understand what's going on — but the words are sure fun to say out loud 3) Ellis' illustrations are detailed and meticulously planned out. "Du Iz Tak" is perfect for sparking imagination and creating narratives on the fly.
When all you want to do is read, you'll take any measure to make that happen. When we meet the star of "Let Me Finish," he's just left his noisy home for a comfy, quiet spot under a tree. Before he can even start, though, a gaggle of birds ruin the story for him. With a new book in hand, the young boy takes up refuge in cave. Too bad a bear has to share his opinion, too. The pattern continues from there, until a surprise twist at the end.
I think every reader can relate to this dilemma. Author Minh Le approaches the topic with humor that is equally matched with Isabel Roxas' engaging illustrations. Not only does "Let Me Finish" teach about spoilers, it also explains boundaries in an way young children can easily understand.
---
AGES 5 AND UP
"ADA TWIST, SCIENTIST," by Andrea Beaty and David Roberts, Harry N. Abrams, Sept. 6, 2016, Hardcover, $17.95 (ages 5-7)
Ada Marie said not a word until the day she turned 3. Instead she spent her time observing. And what was her first word? Well, it was "why?" of course. Ada has the mind of a scientist. It's full of questions and she wants answers. But when a stinky smell takes her experiments too far, her parents send her to the Thinking Chair for a timeout. But sometimes thinking is just the first step.
"Ada Twist, Scientist" is a follow-up to the New York Times bestselling picture books "Rosie Revere, Engineer" and "Iggy Peck, Architect." Like Rosie and Iggy, Ada's curious about everything. Andrea Beaty's rhythmic text is both entertaining and interesting, and David Roberts' illustrations are detailed and engaging. It's great to see a young girl in the scientist role, and this book has a lot of early STEM applications as well. "Ada Twist, Scientist" will definitely make its way into our reading rotation when my daughter is older.
"Stuck on Fun" is not your typical picture book. This fully interactive book introduces young crafters decorative tape and patterns. It comes with fully illustrated characters ready to be punched out and personalized with stickers, sticker tape, patterned paper and stencils. There's also a 16-page project book filled with simple instructions for designing and creating unique patterns from the included materials and an assortment of common craft supplies.
"Stuck on Fun" is exactly the type of book I would have loved at this age. The book gives just enough guidelines to get started but intentionally leaves room for creativity and exploration. Jannie Ho's illustrations are sweet and inviting. The punch-out characters are made of heavy cardstock and stand up to heavy use. There's also a nice selection of paper and tape.
Like "Stuck on Fun," "Fun with Stitchables" is designed as an introductory course of sorts for young crafters. In this case, simple embroidery is the subject. Cross-stitch sewing cards are included with punched holes for easy stitching, as well as a 16-page project book with instructions for designing unique stitching patterns and color combinations. A project gallery shows examples of what the hand-stitched cards can become once they are complete. However, needles, thread and scissors do need to be purchased separately.
When I was little, I remember watching my mom do Crewelwork, a type of embroidery, and wondering how on earth she did it. It seemed so complicated. It wasn't until I was 8 or 9 that she got me a cross-stitch kit, and taught me the basics. I wish that "Fun With Stichables" had been around then. I could have taught myself, and I would have loved it. Suzy Ultman's designs range from basic to whimsical, growing more complex with skill. If you have a young crafter in your house, "Fun With Stichables" or "Stuck on Fun" are a great option for a more self-guided experience.
---
AGES 6 AND UP
Ada Lovelace (1815–1852) was the daughter of Lord Byron, a poet, and Anna Isabella Milbanke, a mathematician. Her parents separated when she was young, and her mother insisted on a logic-focused education, rejecting Byron's "mad" love of poetry. But Ada remained fascinated with her father and considered mathematics "poetical science." Via her friendship with inventor Charles Babbage, she became involved in "programming" his Analytical Engine, a precursor to the computer, thus becoming the world's first computer programmer. —synopsis provided by the publisher.
"Ada's Ideas" is a fascinating book for a number of reasons. First, is Ada's life in general. Most young people would never guess that the world's first computer programmer not only was a woman but that she lived in early to mid-1800s. The amount of research and editing for this part of the book must have been daunting.
Then you add in the illustrations. They were created with Japanese watercolors. Once the paintings were finished, they were cut out, assembled and glued to achieve 3-D artwork. Finally, the images were photographed. The end result is beautiful and very much in keeping with the overall tone.

"THÉRÈSE MAKES A TAPESTRY," by Alexandra S.D. Hinrichs and Renée Graef, J. Paul Getty Museum, March 8, 2016, Hardcover, $19.85 (ages 6-9)
Thérèse and her family work in the Gobelins Manufactory, making tapestries to hang on the walls of fine palaces. Though Thérèse only spins wool, she dreams of weaving intricate pictures. Girls aren't allowed to be royal weavers, but that doesn't stop her from practicing on a small loom at home. When her father brings home a painting of King Louis XIV's palace in winter, Thérèse decides to use it as a pattern for a tapestry. With the help of family, friends and the artisans of the Gobelins, Thérèse finishes her work just in time for a royal visit.
Though Thérèse's story is a work of fiction, her adventures were inspired by a real tapestry that now hangs in the J. Paul Getty Museum in Los Angeles. "Thérèse Makes a Tapestry" is a beautiful picture book. It features original paintings by award-winning artist Renée Graef that not only illustrate the art of weaving but give life to Thérèse and her family. Both Graef and author Alexandra S. D. Hinrich meticulously researched the history of 18th-century tapestries and how they were created. And yet, with all the research, the book never feels dry or overcomplicated. Hinrich tells a fascinating story that is at the same time age appropriate but compelling for readers of all ages.