Meet the newest character in Andrea Beaty and David Roberts' The Questioneers series with Aaron Slater, Illustrator.
Aaron Slater loves listening to stories and dreams of one day writing them himself. But when it comes to reading, the letters just look like squiggles to him, and it soon becomes clear he struggles more than his peers. When his teacher asks each child in the class to write a story, Aaron can't get a single word down. He is sure his dream of being a storyteller is out of reach . . . until inspiration strikes, and Aaron finds a way to spin a tale in a way that is uniquely his. —Synopsis provided by Harry N. Abrams
Aaron Slater, Illustrator is the fifth book in The Questioneers picture book series, featuring Iggy Peck, Architect; Rosie Revere, Engineer; Ada Twist Scientist; and Sofia Valdez, Future Prez. (The Questioneers also feature a line of chapter books and project books.) Each book follows a specific kid from Miss Greer's second-grade class as they follow their passions by asking questions, making mistakes and persevering. The books can be read in any order and are all excellent.
Fans of the series will notice a slight change when it comes to Aaron Slater, Illustrator. This time around, the book features a dyslexia-friendly font. Aaron has dyslexia, but learns to use his passion for drawing as his way of communication.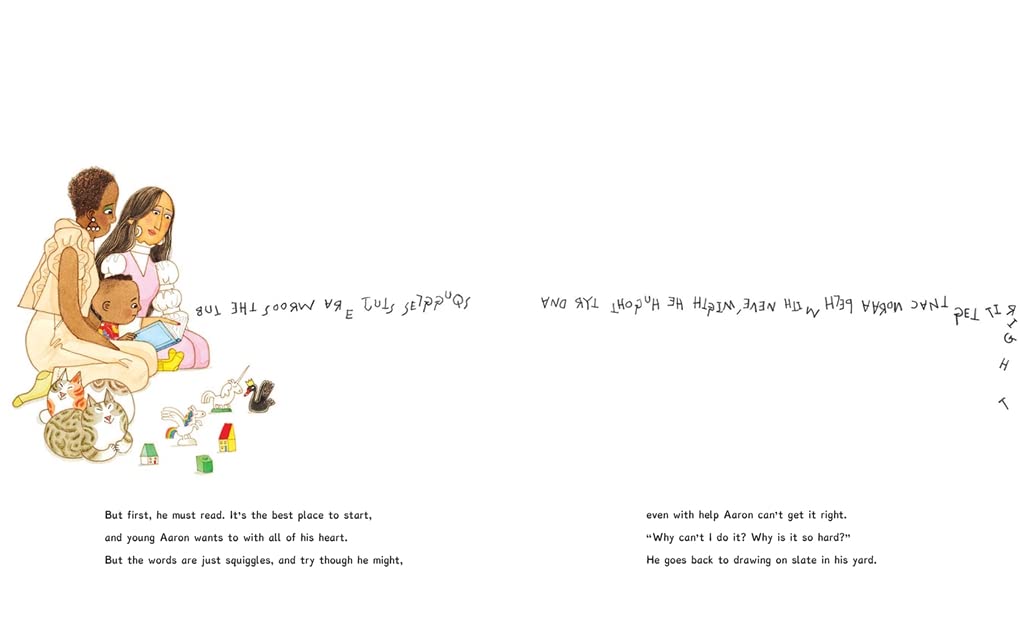 While each book in this series is fantastic, Aaron Slater, Illustrator may be the most moving. Beaty's rhythmic prose, with its pauses at the most climactic point, make it a joy to read aloud. And Roberts' illustrations quite literally take flight.
Aaron Slater, Illustrator is a wonderful tale of creativity, acceptance and overcoming adversity. Kids with and without learning disabilities will be drawn to this heartfelt book and strong new character.