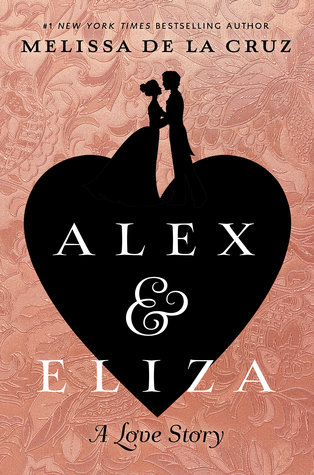 ALEX AND ELIZA: A LOVE STORY by Melissa de la Cruz, G.P. Putnam's Sons Books for Young Readers, April 11, 2017, Hardcover, $17.99 (young adult)
It seems like everyone is trying to cash in on the success of the Broadway musical Hamilton, including New York Times bestselling author Melissa De La Cruz. Her latest historical-fiction novel, Alex and Eliza, retells the events of Elizabeth Schuyler and Alexander Hamilton's courtship.
Before meeting Elizabeth (aka Eliza), Hamilton was known as a flirt and could be described as girl-crazy. Not much is known about the couple's first meeting, but when Eliza — who was well versed in politics and current affairs — arrived in Morristown in early 1780, Hamilton was immediately taken. Within a month, he proposed, and on April 8, 1780, Eliza's father wrote accepting the marriage proposal. The two were married in December of that year.
Much of what we do know of their early relationship comes from correspondence between the two. In July 1780 Alexander wrote Eliza:
"I love you more and more every hour. The sweet softness and delicacy of your mind and manners, the elevation of your sentiments, the real goodness of your heart- it's tenderness to me- the beauties of your face and person- your unpretending good sense and that innocent symplicity and frankness which pervade your actions, all these appear to me with increasing amiableness, and place you in my estimation above all the rest of your sex."
Ron Chernow's biography of Alexander Hamilton served as the source material for Hamilton's songwriter, lyricist and lead actor Lin-Manuel Miranda.
"As told by Chernow and Miranda, Elizabeth helped Alexander draft political essays, correspond with heads of state, and raise a large family. After her husband's death in American history's most famous duel, Elizabeth recast her public image as a philanthropist and protector of Hamilton's legacy, while privately struggling to keep her family fed and housed on a budget. She outlived her husband by 50 years, and made the most of her extraordinarily long and tumultuous life." (Kat Long, Smithsonian Magazine)
It is because of Elizabeth's work to preserve Alexander's reputation — collecting his papers and sending clarifying questionnaires to former colleagues — that Chernow was able to conceive his biography, which Miranda's musical and De La Cruz's novel were born out of extension.
De La Cruz's Alex and Eliza takes place from the couple's first meeting in 1777 to their marriage in 1780. I enjoyed Alex and Eliza as a piece of fiction, and that's the way you have to approach it. While the author did a lot of research on women of the American Revolution and includes a lot of domestic elements to the book, she takes liberties with history. Many of these liberties come because we don't know what happened.
With that in mind, I did enjoy the interactions between the Schuyler sisters as they go about courting in their own ways. I also found De La Cruz's treatment of smallpox inoculation fascinating. As a fan of history, I wish she had spent less time inside of Alexander's lovesick head and more on the politics of the time. While De La Cruz does imply Alexander's importance to George Washington, his work gets downplayed in lieu of a love story. Character-wise, Eliza is definitely the star of this novel.
If you're a fan of YA historical romance and all things Hamilton, Alex and Eliza might be a good choice for you. It's fairly fast and interesting on a number of levels.
---
Enter for a chance to win one (1) of five (5) copies of Alex & Eliza: A Love Story by Melissa de la Cruz (ARV: $17.99 each).
NO PURCHASE NECESSARY. Enter between 12:00 AM Eastern Time on March 27, 2017 and 12:00 AM on April 24, 2017.  Open to residents of the fifty United States and the District of Columbia who are 13 and older. Winners will be selected at random on or aboutApril 26, 2017. Odds of winning depend on number of eligible entries received. Void where prohibited or restricted by law.
---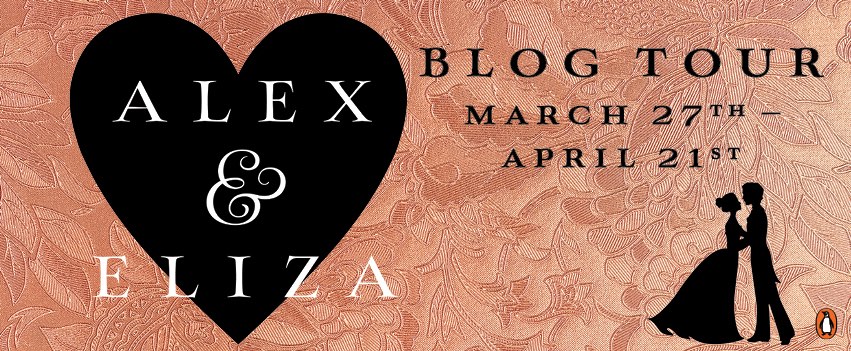 Week One:
March 27 – Ex Libris – Top 10 Moments from A&E
March 28 – Tales of the Ravenous Reader – Eliza's Legacy
March 29 – The Paige-Turner – Review + Favorite Quotes
March 30 – YA Bibliophile – A&E's Love Letters
March 31 – Bookiemoji – Review
Week Two:
April 3 – The Book Nut – Playlist
April 4 – Bibliophile Gathering – Review
April 5 – The Page Turners Blog – Review
April 6 – Fiktshun – Top 10 Reasons to Adore A&E
April 7 – A Page with a View – Review
Week Three:
April 8 – Twirling Pages – Review
April 11 – Mundie Moms – Review
April 12 – Fiction Fare – Review
April 13 – What Sarah Read – Review + Mood Board
April 14 – YA Wednesdays – A&E Fashion History
Week Four:
April 17 – The Fandom – Modernizing Hamilton Characters
April 18 – Hollywood the Write Way – Review
April 19 – Cracking the Cover – The Real A&E + Review
April 20 – Oh the Book Feels – Review + Pinterest Board
April 21 – Bookworm Everlasting – Review
© 2017, Cracking the Cover. All rights reserved.