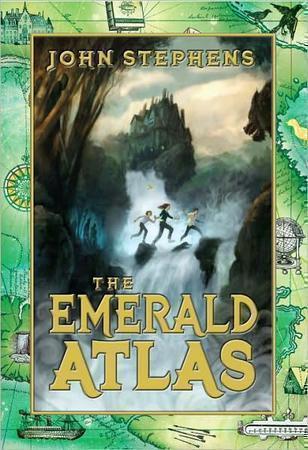 "THE EMERALD ATLAS," by John Stephens, Knopf, April 5, 2011, $17.99 (ages 9-12)
Are you a fan of unfortunate events or wizardly activities?
Yes?
Then "The Emerald Atlas" by John Stephens, may just be for you.
In the beginning, Kate, Michael and Emma were part of a happy family — not that they really remember, though. Kate, the oldest, was 4 the fateful Christmas Eve the children were taken from their parents.
Kate remembers the promise that they would one day be reunited, but 10 years and multiple orphanages later, prospects haven't improved much for the siblings.
And when they get sent to an orphanage in Cambridge Falls, it looks to be their worst move yet.
But there's something special about these siblings, and Cambridge Falls is just the place to start unlocking past secrets. It turns out the trio was being protected from a terrifying evil and that evil has now come to a head.
It turns out magic is real. So are wizards and dwarfs and other mystical creatures with a dangerous slant. The siblings have the power to change history, if only they can figure out how.
At first glance, "The Emerald Atlas" calls to mind Lemony Snickett's Unfortunate Events. Three siblings — two girls and a boy — orphaned and seemingly unloved. Elements of supposed abandonment and magical elements also have tones of Harry Potter.
But that's where the similarities end and a new adventure begins. Creativity and wit abound in "The Emerald Atlas." Author John Stephens could have easily fallen into the trap of building on someone else's ideas. But he doesn't.
Stephens doesn't write down to his readers. Rather he offers a sophisticated narrative that will appeal to children and adults alike. It's clear he had fun writing and that "The Emerald Atlas" was painstakingly thought out.