DAISIES AND DEVOTION, by Josi S. Kilpack, Shadow Mountain Publishing, May 14, 2019, Softcover, $15.99 (young adult/ new adult/ adult)
In September 2018, Josi S. Kilpack introduced readers to a new series of books called the Mayfield Family Regency. As part of Shadow Mountain's Proper Romance line, the series features all the hallmarks you'd expect, including a restrained romance along the lines of classic regency stories.
Daisies and Devotion is the second book in the Mayfield series and follows another of Lord Elliot Mayfield's nephews. Elliot wants to make sure his family is provided for. He fears his nieces and nephews are moving toward bad matches and scandalous relationships. So, he's created a campaign, a marriage campaign. His goal is to motivate his family to improve themselves by making advantageous matches.
In Promises and Primroses, the first book in the series, introduced readers to Peter, Elliot's oldest nephew. Daises and Devotion follows Peter's brother, Timothy Mayfield, on his path to marriage.
Timothy has always known he must marry for wealth. As the younger Mayfield son, he will inherit nothing from his father's estate. That all changes when Elliot settles a decent inheritance on Timothy — providing Timothy's bride meets approval. The sudden windfall lifts Timothy's spirits seeing as how he is now free to pursue his "perfect woman"— one with more than 20 specific characteristics.
Maryann Morrington seemed like a good match for Timothy prior to his inheritance. A heiress in her own right, she's been the target of many suitors looking to better their own situations. But Maryann is nearly 22 years old and not a particularly beauty. Even with her inheritance, she can't be as picky as her friend Timothy.
Not suited for each other, Maryann and Timothy set out to find the other the "perfect match." Timothy will find a decent gentleman for Maryann, and Maryann will prove that Timothy's "perfect woman" doesn't exist.
Until Miss Shaw comes to London. She's blonde, blue-eyed, and everything an accomplished young woman should be. Timothy is hooked with one look. And it seems Timothy's choice for Maryann might be perfect, too. But looks can be deceiving and feeling have a way of growing when you least expect them to.
Though Daises and Devotion is the second book in the Mayfield series, it also stands alone. Readers of the first book will like gentle nods to Promises and Primroses and will learn more by gaining some backstory in the first book, but will enjoy Daisies and Devotion on its own.
In fact, I liked Daises and Devotion better than its predecessor. It's a charming Regency novel told from both Timothy and Maryann's points of view. Both main characters are well-developed and likeable. Here, Kilpack has hit her Regency stride balancing wit and a sense of longing all within the boundaries of propriety.
My only problem with the book is minor. Maryann has recently come into her fortune, but we're never told why. It's a little detail, but during the time period, it would have been important.
Daisies and Devotion is a fast novel that is easily accessible.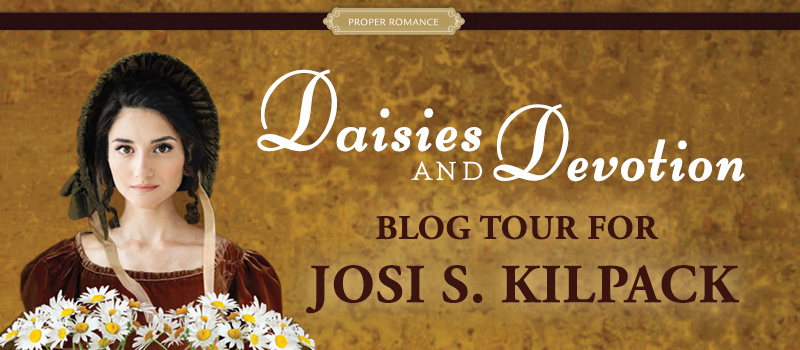 © 2019 – 2020, Cracking the Cover. All rights reserved. Unless otherwise noted, all books — digital and physical — have been provided for free by publishers in exchange for honest and unbiased reviews. All thoughts and opinions are those of the reviewer.