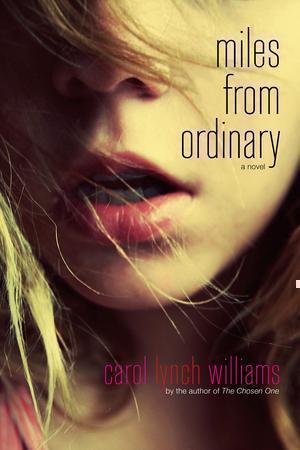 "MILES FROM ORDINARY," by Carol Lynch Williams, St. Martin's Griffin, March 15, 2011, $16.99 (young adult)
It's hard to be a parent — especially when you're only 13 and your child is your mother. It's a hard situation that puts undue pressure on youths who are having a hard enough time just trying to figure themselves out.
A teen's search for normalcy in an impossible situation is the subject of Carol Lynch Williams' latest book, "Miles From Ordinary."
Thirteen-year-old Lacey is excited. Today is going to be different. Today she will be "normal." Her mom will be "normal." Their activities will be "normal."
Today Lacey begins her new job at the library, one of her favorite places. While at the library, her mom will begin work at the grocery store.
Lacey's mom has been much better lately, not so worried about the bad things in the world. It seems her demons have finally disappeared. And it's about time. Their money has about run out, and the income would be a big help.
But it's not just about the money. It's about getting out. Breathing the fresh air. And hours of freedom for Lacey. For the first time in a long time Lacey has hope.
Hope can't combat memories, though, and the day is lost. And so might be Lacey's future.
With such a glut of fantasy/paranormal young-adult books available, it's nice to come across anything different. And not only is "Miles From Ordinary" different, it's really good, too.
Lacey faces real-world challenges to which there are no easy answers. It's a situation straight out of real life that rings true in both tone and voice.
It's clear that the author was fully invested in this book and that she truly cared about her characters. It's also clear she respects her readers. The maturity of the subject and writing confirm a trust between the two.
"Miles From Ordinary" is not a happy book, though there are moments of joy and humor. But happiness shouldn't be a prerequisite for a good read. Excellence should be the standard, and "Miles From Ordinary" has that in spades.