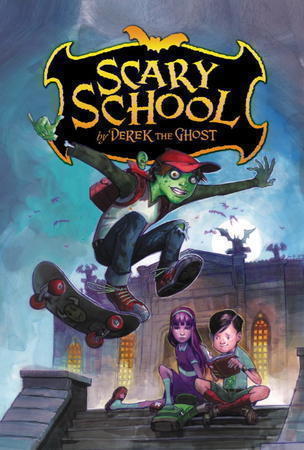 "SCARY SCHOOL," by Derek The Ghost (Derek Taylor Kent) and Scott M. Fischer, HarperCollins, June 21, 2011, $15.99 (ages 8-12)
Being the "new kid" at an school is hard, but when you're the new kid at Scary School, things are decidedly different.
Meet Derek the Ghost, he was just plain Derek until a year ago when one of Mr. Acidbath's experiments went terribly wrong and he died right there in class. Things like that are always happening at Scary School, so nobody was to worried when it happened.
Much to Derek's surprise, he came back as a ghost unable to leave the Scary School grounds. Ghosts are ghosts because they have unfinished business. Derek figures his is that he always wanted to be a writer when he grew up. That and nobody had ever written about the goings on at Scary School. So this year he's spent his time floating around school and writing all the awesome stuff that's happened down.
And there's a lot of awesome stuff.
There's a giant squid living in the moat outside the school and a T. rex who wears a blue dress that's in charge of detention.
Mrs. Fang, an 850-year-old vampire is the sweetest, nicest teacher in the whole school, and she only ate 12 kids last year.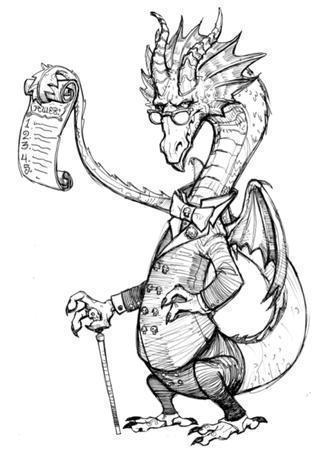 And then there's Dr. Dragonbreath, who tends not to support the notion that students should stay alive during class. Breaking any one of his rules is fatal.
The school has been chosen to participate in the Ghoul Games, the biggest event of the year for all the scary creatures of the world. Every student must take part in these historic Games, as it's the first time children have been allowed to participate
And if all goes well, thousands of years of human-monster separation could come to an end. It could also spell the end for Scary School, as the winners of each event will get to eat the losers.
It's going to be a crazy year at Scary School, but it's one you'll want to learn about.
In "Scary School," Derek the Ghost (aka Derek Taylor Kent) has created a quirky tale reminiscent of laugh-out-loud collection of stories in "Sideways Stories from Wayside School."
Though told from the point of view of an 11-year-old boy, "Scary School" doesn't fit nicely into "boy" or "girl" genres. Rather, it's one of those books that defies labels and will equally appeal to readers of both genders.
Derek takes what could be fears for schoolchildren — rules, mean teachers, fitting in with other students — and makes them into jokes. Laughter is one of the great equalizers, and "Scary School" has it in spades.
This hilarious look at a school unlike any other will likely become a staple in homes and libraries across the country.
Learn more about "Scary School" and its creator here. Or visit the "Scary School" website.