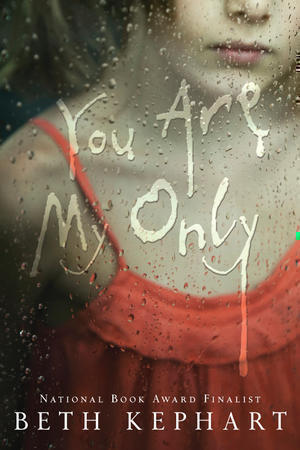 "YOU ARE MY ONLY," by Beth Kephart," Egmont, Oct. 25, 2011, $16.99 (ages 12 and up)
It's a common thing, briefly leaving a child alone, in a seemingly safe place like a backyard swing, for a minute or two while running inside to retrieve a forgotten item.
It's an action Emmy Rane takes one sunny day in September. Baby is her life. She's her joy. And when Emmy runs upstairs to fetch something, Baby is taken. When Emmy returns, all that's left behind is a little yellow sock.
Emmy is grief stricken, running around her town looking for her lost girl and getting hurt in the process. But it doesn't matter what happens to Emmy, finding Baby is her only thought.
Fourteen years later, a teenage girl is sitting in her attic looking out at the world and imagining possibilities.
Sophie has lived most of her life inside where it's safe, according to her mother. She is homeschooled and is forced to move more often than is really good for a person. It seems she and her mother are always on the run from the "No Good."
Outside is so tempting, though. And one afternoon, Sophie breaks the rules and meets her neighbors, Joey and his two aunts. Sophie has never met anyone like them. Her whole being comes alive when they're together. It's because of her experiences with them, that she gains the courage to look into her past, and what a past it is.
"You Are My Only" is not your typical book for a number of reasons. It's told from the point of view of two people. Those two people are years apart in age, but it doesn't feel that way. And both of their stories unfold simultaneously, though they happen some 14 years apart.
This is a story of loss and redemption. It's a look at the things people do when faced with extremely traumatic events and the way society in turn looks at them. It is a story of growth despite considerable obstacles and of eternal hope.
Emmy and Sophie are unique in how they represent themselves. And, at least for this reader, Emmy's passages were much harder to get through. Sophie feels more accessible, easier to identify with. I don't think this is because one is a parent and another is a teen. I think it has to do with their overall character development. There's so much unknown about Emmy, no real past at all. Sophie, on the other hand, feels almost weighed down by her past, which she knows nothing about.
"You Are My Only" is an interesting read, though it left me feeling ambivalent. The two stories are connected, but could easily stand alone. I often found myself skipping ahead on one character's section so that I could pick up where the other one left off.
Author Beth Kephart has done a fine job capturing her characters' emotions and true sense of self. And her exploration of being alone, whether physically or not, leads to thoughts beyond her text while reading, but did little to make me think about her book after I finished. I'm glad I read "You Are My Only," but with so many amazing reading options available, I doubt I would return to read it again.