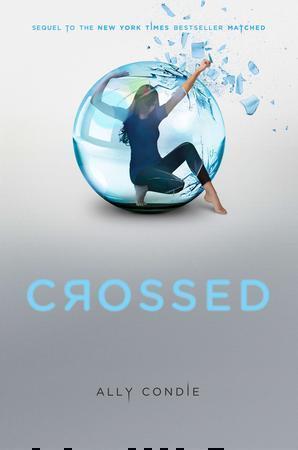 "CROSSED," by Ally Condie, Dutton Juvenile, Nov. 1, 2011, $17.99 (young adult)
Submission. Rebellion. Truth. All three are elements in Ally Condie's Matched trilogy, and all three, when working in concert, make for a captivating read.
Cassia's story begins as so many stories do, with a choice. The problem is, she's not supposed to have a choice. The Society is supposed to make it for her. To "match" her with her future spouse, someone she may not know but who is "perfect" for her.
But Cassia's Match isn't a stranger. It's Xander, a lifelong friend who she already has feelings for. Everything is perfect until she plays the microcard containing their Match's background information.
"Cassia Reyes, the Society is pleased to present you with your Match," a voice tells her. Everything's just as she imagined it would be until touching a link triggers the voice again, only this time, another face appears, and it, too, is a face she recognizes — Ky's.
Ky is an outcast, an Aberration. As such, he can never marry. And yet, there he was, on her card as if everything was normal. Suddenly, Cassia's whole world is turned upside down. With Xander there is normalcy. He's comfortable and safe. Ky, on the other hand, challenges Cassia. He makes her think beyond the confines of the Society's bubble, and she likes it. A lot.
When the Society sends Ky to the Outer Provinces, Cassia has to choose — safety or defiance.
In "Crossed," Cassia follows her heart and leaves the Society behind. It's a hard decision and could mean never seeing her family or Xander again. But Cassia can't imagine never seeing Ky, either, and she journeys to the Outer Provinces to find him.
It's not just a matter of finding Ky, though. Cassia is in search of answers and they're answers she may not like.
A new cast of characters join Cassia and Ky as they journey across a vast expanse much different from the backdrop introduced in "Matched." But the change in landscape isn't just a physical one; Ally has changed the landscape of the Matched world by introducing Ky's voice into the equation.
It's an important and defining change in the Matched trilogy, as readers get a glimpse into the life of the mysterious boy who captivated Cassia. This move by Ally adds dimension to her second act. Cassia could not have carried it on her own, and the story is no longer just her own.
Many times the middle book or movie in a trilogy gets lost. It becomes a way to get characters from one place to the next. That is not the case with "Crossed." As Ally's characters have evolved, so has her writing and plotting. There are stark differences here from its predecessor. "Crossed" has a grittier feel to it — not in content, but in ambiance. There are no fancy dresses or scenic jogs. Ally's characters are facing trials and they're coming into their own.
Ally is coming into her own as well. On the technical side, her prose is more refined and her transitions tighter. Both of Ally's books are as cerebral as they are entertaining. And one can't help put themselves in her characters' places as they work to create a world of their own making.
Readers who are hoping for hoping for a carbon copy of "Matched" will be disappointed. In "Crossed," decisions have been made, and Cassia — and readers — must learn to live with the ensuing consequences.
*Learn what Ally has to say about "Crossed" and discover the story behind "Matched." Also, read Cracking the Cover's review of "Matched."