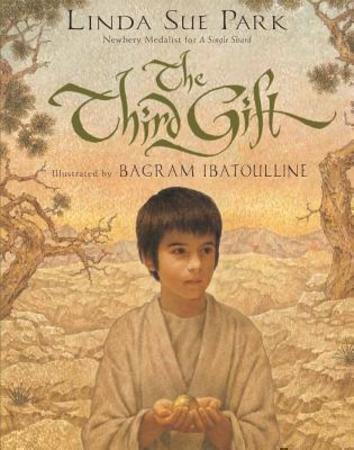 "THE THIRD GIFT," by Linda Sue Park, Illustrated by Bagram Ibatoulline, Clarion Books, $16.99 (ages 6 and up)
"My father collects tears. That is what they are called: the pearls of sap that seep out of a tree when the bark is cut. Maybe they are called tears because it seems as if the tree is crying."
So begins "The Third Gift, " a new picture book by Newbery Medalist Linda Sue Park that details how small everyday actions can have far-reaching effects.
The boy who is talking in the excerpt above is working with his father, learning his trade. Together, they walk a long way. His father has to "see inside" each tree, looking carefully to see if each tree is ready. When a tree is right, he cuts an X into it with an ax, being careful not to cut too deep. Sap oozes out, and his father picks it off the tree when sun creates a hard shell. Inside the shell is a treasure — resin.
The boy's father sells the tears to the spice merchant in the marketplace. Tears are hard to come by and fetch a good price. Father and son work together, and harvest tears of varying sizes, even one as big as a hen's egg.
A few weeks later, they are called into the spice merchant's tent where three men are drinking tea. The men have fine robes and are looking for gifts, something special. "We have a gift of gold, and a gift of frankincense," says one of the men. "Now we will add them to a gift of myrrh." The gifts are for a baby, he says, and the young boy is proud that the tear he harvested is among them.
As a child listening to the Nativity story, author Linda Sue Park always wondered what myrrh was. No one else ever asked, Linda writes in an author's note at the end of "The Third Gift." She thought that meant everyone knew except for her. It wasn't until she was an adult that she learned it was used in incense, perfume, embalming oil, wine additive and medicinal herb.
We all play a part in history, and most often, our role remains unknown until long after we've moved on. "The Third Gift" celebrates one of those unknown roles in the Nativity story. There are no bells and whistles, elves or sparkling lights in Linda's book. Yet it tells more of what the holiday season is about than many of its contemporaries.
The young boy and his father are unassuming. And while their daily work is important to them, there is nothing particularly glamorous about it. It's the simple caring actions of the father — depicted beautifully by artist Bagram Ibatoulline — as he shows his son his trade. Most of the book takes place away from the city, and the quietness of the landscape contributes to the reverence of the book.
"The Third Gift" is an excellent choice for those who are looking to go beyond Santa Claus and his elves. It's a lovely picture book that many would be happy displaying where visitors can see.
© 2011 – 2017, Cracking the Cover. All rights reserved. Unless otherwise noted, all books — digital and physical — have been provided for free by publishers in exchange for honest and unbiased reviews. All thoughts and opinions are those of the reviewer.