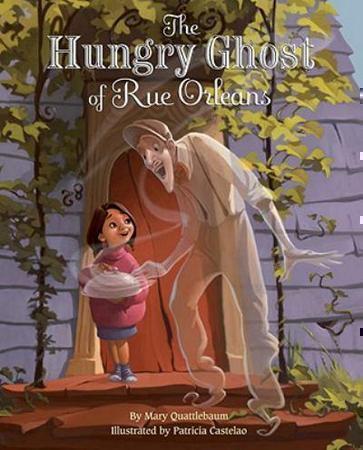 "THE HUNGRY GHOST OF RUE ORLEANS," by Mary Quattlebaum, illustrated by Patricia Castelao, Random House Books for Young Readers, September 27, 2011, $15.99 (ages 3 and up)
The first page of Mary Quattlebaum's "The Hungry Ghose of Rue Orleans" immediately draws readers in with words like: "jazzy-snazzy," "squeaked," "moaned," and "clicked." How can your ears not perk up with all those interesting sounds being thrown around?  Meanwhile, the warm colors of the full-page illustrations are busy presenting puzzles and details for the reader eyes to wander about and discover (like a man with legs made of smoke, and a ceiling dripping with rain). By the time the page ends with the revelation that the book's main character, Fred, is a ghost, you can't help but keep reading to find out more about Fred and what his life is like at 28 Rue Orleans.
Set in a New Orleans' restaurant, this creative picture book will make young readers giggle as they watch Fred experience life with the new — and living — residents of his house.  With entertaining additions including a beloved cactus, and diners who enjoy the haunting antics of a resident ghost, this book is full of all those crazy details that young readers enjoy.  Fred isn't a scary ghost, he's a fun ghost — and anyone would enjoy getting to know him better.
Full of fun sensory-laden language, this quick-paced picture book has both likeable characters and topsy-turvy surprises. Add to that an ending centered around loving your neighbor — even if he is a ghost — and you've got yourself a fun read for the whole family.
© 2011 – 2017, Cracking the Cover. All rights reserved.