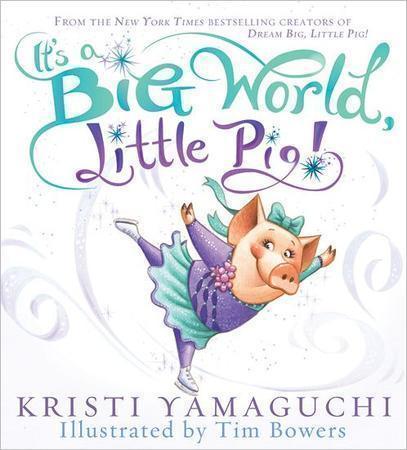 "It's a Big World, Little Pig!" by Kristi Yamaguchi, Sourcebooks Jabberwocky, Hardcover, March 6, 2012, $16.99 (ages 4 and up)
Poppy the ice skating pig is back, and she's just as charming as she was a year ago.
The creation of Olympic gold medalist Kristi Yamaguchi, Poppy is a persistent pig who, through a lot of hard work, became a star on the ice. In this follow-up, Poppy receives an invitation to reach for the stars and compete in the World Games.
The Games are being held in Paris, a long way from Poppy's home. But Poppy knows her friends and family will be with her every step of the way. The World Athlete Village is full of athletes from all over the world, many of them just as nervous as Poppy. Turns out everyone smiles in the same language!
As with "Dream Big, Little Pig!" "It's a Big World, Little Pig!" is an upbeat book about positive pig power. Instead of the competition of the World Games, Kristi focuses on friendship and facing fears. There's nothing about winning or losing, just performing to the best of your ability, which is a fine lesson for young children.
Most of all, "It's a Big World, Little Pig!" is a fun read. The illustrations are bright and bold, and all of the characters have great personality.
© 2012 – 2017, Cracking the Cover. All rights reserved.