A little more than a year ago, Derek Taylor Kent set out on a mission to bring kids a book that made them laugh. Something along the same vein as "Sideways Stories from Wayside School."
In the June 2011, "Scary School," by Derek the Ghost aka Derek Taylor Kent, was published. The tale is about a school where just surviving until lunch is considered a good day, and it's narrated by a recently deceased 11-year-old, who goes by the name of Derek the Ghost.
The book was a hit, and now the second book in the series, "Monsters on the March," is available in bookstores.
"I was thrilled that Scary School No. 1 won the Children's Literature Network award for 'Funniest Chapter Book of 2011,'" Derek told Cracking the Cover. "My goal when I started was to write the funniest children's series ever, so I'm very glad that kids seem to be connecting to the humor and having a great time reading the books."
And Derek is having a great time writing the books. "With each book I write, I feel as though my writing is improving so it's always fun to start a new book and see how my style is evolving," he said. "Luckily, writing is still the most fun I think I can possibly have when I'm into something I like. If it's ever not fun, I'll have to probably jump onto a new project."
As Derek builds on the world of Scary School, he gains a lot of ideas from current trends in movies and books that he can poke fun at. He also draws inspiration from classics. In Book 2, he explains, there's a two-chapter sequence that delves into the world of Stephen King books.
"There's also a funny chapter (it's probably my favorite) that makes fun of the famous Voldemort orphanage scene from Harry Potter No.6," Derek continued. "I like to take classic stories and mold them into my world. You know like how 'West Side Story' is just a re-imagining of 'Romeo and Juliet.' Scary School No. 2: 'Monsters on the March' is basically a children's version of 'The Illiad.' For Scary School No. 3, the story is inspired by King Arthur."
As long as he puts the preparation and work in beforehand, writing remains a fun and 'easy' task, for Derek. But he does say finding the time to do it while promoting the other books with school visits and book tours is becoming harder.
Not that Derek would give up his time with fans. Each time he meets with kids, there's a great deal of enthusiasm. "There is definitely a fair share of Scary School 'geeks' who know more than I do about the characters and ask very probing questions, and there are those who are just getting into it and are exciting about the premise," Derek said. "I usually do several school visits a week, so I created an interactive story with a slideshow. The kids get to make monster noises and even choose what happens in the story. It seems to get them excited about what happens in the book."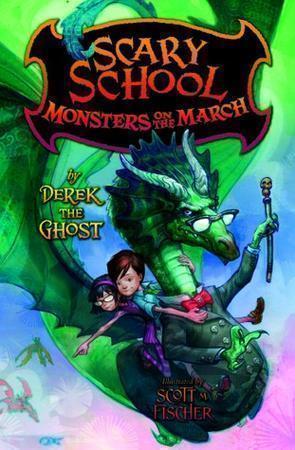 During his visits with fans, Derek gets asked some pretty crazy questions. A school visit last year turned into a question-asking tangent about what kinds of monsters are in the books: "Is there a dragon?" "Is there a Chucky?" "Is there a zombie?"
The one student raised his hand. … "He looked very distressed," Derek recounted. "Bubbling with excitement he asked, 'Is there… is there… a Cyclops?' And I had to say, 'Sorry, there isn't a Cyclops in the book.' His smile dropped and he looked like he was about to start crying. So I quickly said, 'But don't worry! There's definitely going to be a Cyclops in Book 3!' And he smiled again and cheered his heart out. I made sure to write a kid Cyclops into Book 3 because I kept thinking that if I don't, that kid will be inconsolable."
Kids like the Scary School books because of their connections to characters, Derek said. "I tried to create a cast full of kids (regular and scary) that everyone could relate to. Most kids love monsters, so I think that initially draws them to the series, but then to get them to keep reading book after book, they have to be attached to the characters and their journeys."
There are currently three books officially planned for the series, with Book 3 set for publication in June 2013. Derek hopes there will be more after that — he already has three additional books in the series mapped out. "I'd like to definitely write those one way or another," he said. "I still feel like I've only brushed the surface of the world and the characters, so let's all keep our fingers crossed!"
Derek can be booked for school visits via the "Book Tour" section of www.ScarySchool.com. Kids also seem to like the website because they can play a video game, meet the student and faculty, and unlock secret chapters, Derek said.
Read a complete transcript of Derek's interview with Cracking the Cover.
© 2012 – 2017, Cracking the Cover. All rights reserved.