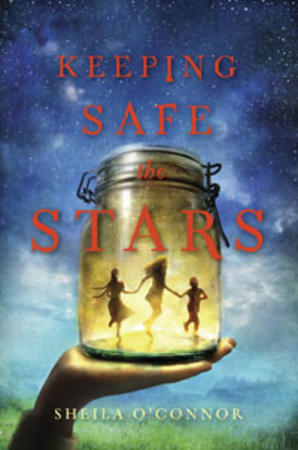 "KEEPING SAFE THE STARS," by Sheila O'Connor, Putnam, Oct. 11, 2012, Hardcover, $16.99 (ages 10 and up)
There are some authors you just look forward to reading. You don't necessarily care what their book is about — at least at first. You just know you're going to want to read it.
Sheila O'Connor is one of those authors. She doesn't rely on trends or bizarre creatures. She writes from her heart, and she does it well. Her latest book, "Keeping Safe the Stars" is the beautiful tale of three siblings who are as self-reliant as they are dependent on each other.
The Stars — Pride, Nightingale and Baby — are orphans, but they're not alone. Old Finn, their grandfather, came for them the minute he found out they lost their mother. They've been living with him ever since.
Old Finn is a kooky old man whose living pretty close to off the grid in rural Minnesota. He homeschools the children and is teaching them to be self-reliant. He's taught them a lot, but no one is prepared when he falls ill.
Wary of the outside world, Old Finn doesn't tell anyone of his children left alone at home. Taking from Old Finn's cue, the children keep their unsupervised status quiet, too. But there are a few problems: The Stars have low supplies and even less money to stock them.
As the oldest, Pride takes charge. Things are OK for a little while, but she soon finds herself telling lies to cover up their situation, and with each lie, the pressure to keep all the balls in the air gets stronger. Though the she makes some mistakes along the way, the Stars are able to earn enough money for a bus ride to Duluth. Surely once they get there Old Finn will have the answers.
Except he doesn't. He can't walk or even say his own name. Pride can't keep safe the Stars forever. She's going to need help to keep them all together.
Sheila has a way of translating complex relationships and situations into something accessible for young readers while maintaining a maturity that defies age limits. "Keeping Safe the Stars" is equally enjoyable for a 10-year-old as it is for a 32-year-old. Her prose transcends expectations as she slips seamlessly into a time a place both new and familiar at the same time.
Each of the main characters are well-developed and likeable in their own way. You come to know the weight of responsibility on Pride's shoulders, the studious strength of Nightingale's resolve and the impish curiosity of Baby as their story plays out. And though readers barely meet Old Finn in person, he becomes an old acquaintance through Pride's remembrances and a stack of old letters she finds.
Like Sheila's "Sparrow Road," "Keeping Safe the Stars" is one of those books that will live on your bookshelf long after the latest fads find themselves sold for $1 or given away. There's a timeless elegance to it that makes it worth the time and money investment.
*Read Cracking the Cover's interview with Sheila O'Connor.