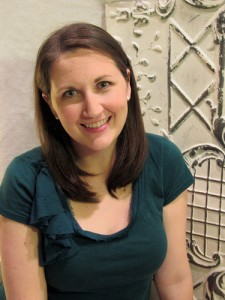 For a long time, fear of rejection kept Tiffany Schmidt from entertaining thoughts of becoming an author. She's always written, but she shelved away the idea of being an author with other childhood dreams — astronaut, Rainbow Brite, Sea World trainer, Disney Princess.
"Authors, in my mind, had more cool points than rock stars and movie stars combined," Tiffany told Cracking the Cover. "The idea that I could ever join the ranks on the bookstore shelves seemed unattainable."
Through she can't remember the specific moment she decided she could be an author, Tiffany does remember how thrilled and terrified she felt the first time she sent queries letters out into the world of literary agents. "It was one of the best decisions I ever made," she said.
That decision changed Tiffany's life. Her debut novel, a contemporary novel for young adults called "Send Me A Sign," was released Oct. 2. It's the story of Mia, a popular teenager always on the lookout for signs. When Mia is diagnosed with cancer, she decides she doesn't want anyone else to know. She doesn't want pity, and she doesn't want to lose her place at the top of the social food chain. As her illness progresses, Mia learns signs won't tell her everything and that maybe she does need someone else to help her through.
In general, Tiffany says she's not sure where her writing projects come from. "My mother has been trying to figure this out since I was three years old and told her long, complicated stories about how 'it wasn't me' who shook the can of grape soda and sprayed it all over the kitchen walls," she said.
"Send Me A Sign" is no different, though Tiffany says there's usually some aspect of life that she just can't stop thinking about. "Probably from the same muse who told me to shake the grape soda," she joked. "Or who encouraged me to give myself and all my Barbies a haircut."
All joking aside, Tiffany says there were moments while she was researching and writing "Send Me A Sign" where she wanted to give up. "The idea of doing justice to such a scary disease — both getting the medical aspects right and also the emotional toll that it takes on everyone in the novel — was so daunting," she explained.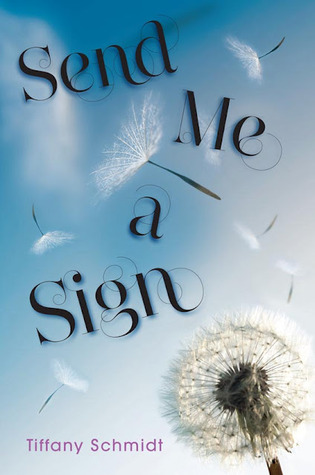 "It was so important to me that my portrayal of Mia's experience be respectful of cancer patients, but also acknowledge that there isn't one right or wrong way to have cancer."
Mia's decision not to share her illness with her friends is both brave and cowardly, Tiffany says. Mia wants to protect her friends, but she's also protecting herself and preventing herself from having to face the realities of her illness.
"It's been fascinating to me that, since writing the book, I've heard of more and more real-life cancer patients who made the same decision Mia did," Tiffany said. "Many of their rationales matched my motivation for writing 'Send Me A Sign' the way I did — this fear that cancer would become their identity and people wouldn't be able to see beyond the disease."
Cancer is an unbiased disease, going after people of every age, race or creed. It has become a universal experience. "Send Me A Sign" is dedicated to one of Tiffany's former students who passed away from cancer.
"Unfortunately I feel like there are very few, very lucky people who have no personal experience with cancer," she said. "I hope that someday this isn't true — that soon we can all look back on cancer the way we do polio or some other disease that's been rendered preventable by modern medicine."
We all experience times when our lives seem to be out of our control, Tiffany says, or times when we wish there were clear signs about what choice to make when faced with a difficult decision. "I hope that Mia's superstitions and struggle to feel like she's in charge of her own life will appeal to readers of all ages."
Tiffany says she writes about young people rather than for them. "I've always been fascinated with the pace and dynamics of teen years," she explained. "Before I had my twins I was teacher, and it was amazing to see how much my students changed from September to June. Some students would reinvent themselves several times during the course of those nine months, friendships would evolve, relationships would start — become all-consuming — end. It's such an age of flux and discovery — and such a memorable and important time in life. I love playing with all that in novels."
Tiffany is currently working on another YA contemporary novel called "Bright Before Sunrise." It's scheduled to be published by Walker in winter 2014. It is a story told in one-night; it's also dual-perspective, with both a female and male narrator. "The male voice and the short timeframe within the novel have been fun challenges while both writing and revising," Tiffany said. "I can't wait to share it with you! (T-minus 18ish months!)"
*Read the complete transcript of Tiffany's interview with Cracking the Cover.
© 2012 – 2013, Cracking the Cover. All rights reserved.