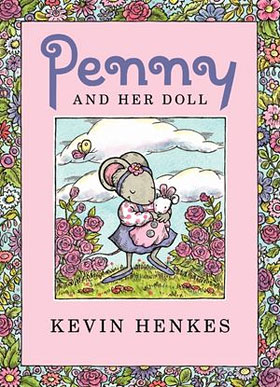 "PENNY AND HER DOLL," by Kevin Henkes, Greenwillow Books, February 19, 2013, $3.99 (ages 4 and up)
I have to admit that "I Can Read" books often make me want to hit my head against the wall. And if they're boring for my daughter, it's even worse.  he's more than willing to drag out those irritating pages for as long as possible: "What." Pause. "Am." Pause. "I."  Pause. "Reading?" Long Sigh.
With my eldest child, I skipped all this. She took to reading like breathing, and the "I Can Read" books were left in the dust. But with my second daughter, I find myself scouring those "I Can Read" shelves for something we can both stand. Imagine my excitement when I found "Penny and her Doll."
Kevin Henkes is a favorite at our home. Our cover for "Chrysanthemum" was long since ripped off with love. His illustrations are full of detail and so colorful. Small jokes for parents are interspersed through-out the books. Meanwhile, Henkes characters are every bit as real as my own children. Happy. Sad. Jealous. Funny. I'm pretty sure they might actually live in my house.
Penny and her books provide more of the same. Lovely illustrations, situations that actually happen to real children, and stories that don't make we want to scream. (I'm sorry, Dora. I just don't want to see what's on the map.) Meanwhile, my daughter loved that the books had "chapters" which made her feel like an even older reader. With two of the books in paperback  — one coming out this month — and another in hardcover, they are a great option for readers who are starting down a road of imagination and fun.
*Also, as far as "I Can Read" books go, my absolute favorite is "Who's A Pest?" written by Crosby Newell Bonsall in 1962.  While it might be difficult to find — no current edition for sale — this particular book drew my entire family onto the couch with its convoluted kid humor. Definitely worth a search at the library.
© 2013 – 2017, Cracking the Cover. All rights reserved.