A Korean girl and her grandmother bond over fears and love of the natural world in The Ocean Calls: A Haenyeo Mermaid Story, by Tina Cho and Jes X. Snow.
Dayeon wants to be a haenyeo just like Grandma. The haenyeo dive off the coast of Jeju Island to pluck treasures from the sea–generations of Korean women have done so for centuries. To Dayeon, the haenyeo are as strong and graceful as mermaids. To give her strength, Dayeon eats Grandma's abalone porridge. She practices holding her breath while they do the dishes. And when Grandma suits up for her next dive, Dayeon grabs her suit, flippers, and goggles. A scary memory of the sea keeps Dayeon clinging to the shore, but with Grandma's guidance, Dayeon comes to appreciate the ocean's many gifts. —Synopsis provided by Kokila
The Ocean Calls is unlike any picture book I've read. From beginning to end, there's a serenity that surrounds, even when Dayeon is nervous. That comes in part from the gorgeous illustrations by Jess X. Snow paired with Tina Cho's fluid text.
Passages like the following practically beg you to keep reading:
"The ocean is calling me today," said Grandma. "I must dive."
Grandma carried her tools to pluck treasures from the sea. Dayeon carried hers to pluck treasures from the shore.
After collecting ten sea gifts, Dayeon heard singing as the orange globes of the haenyeo's nets floated closer like a giant setting sun. Grandma and the others swam back.
And Snow's illustrations are more than just pretty to look at. They also draw you in:
In one instance you seek Dayeon and her grandmother walking toward the water, the sun casting mermaid-tail shadows behind them.
Another finds you looking up, reaching toward Dayeon through the water.
And at the end, the pair's love is evident as the sun sets behind their boat.
Also of note is the extensive author's note on the haenyeo tradition of woman free divers. This information is fascinating on its own, but magical when paired with the book.
I received a digital copy of The Ocean Calls for review. It's now on my "to-buy" list. It's that good.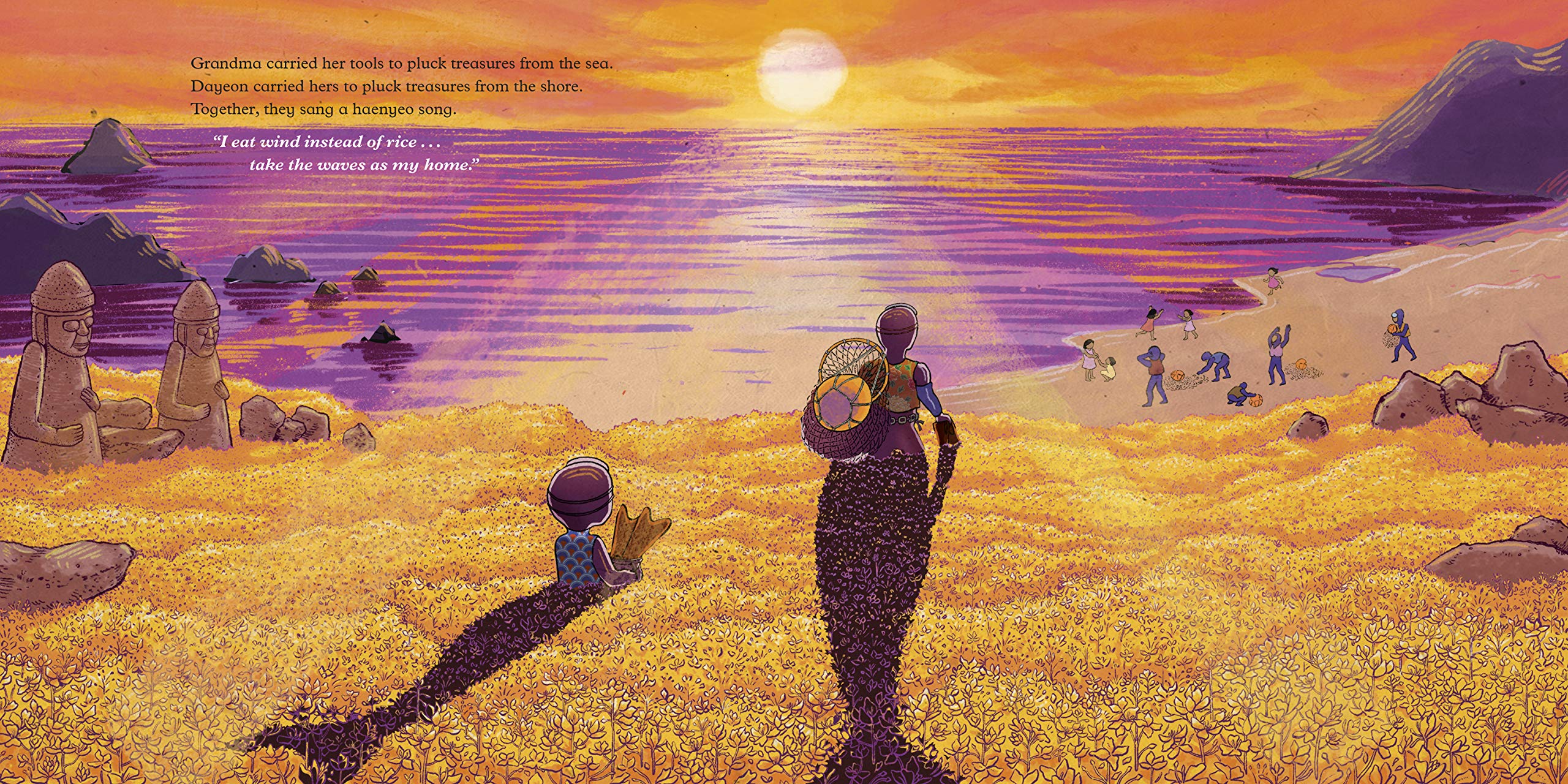 © 2020, Cracking the Cover. All rights reserved. Unless otherwise noted, all books — digital and physical — have been provided for free by publishers in exchange for honest and unbiased reviews. All thoughts and opinions are those of the reviewer.