Enter a world full of books and the way they make us feel in How to Eat a Book, by debut wife and husband duo Mrs. & Mr. MacLeod.
Sheila sat down to eat her first book and the strangest thing happened . . . The book ate HER. One by one, cousins Sheila, Gerald, and Geraldine Grunion are eaten . . . by their books. This peculiar turn of events flings them far and wide. Sheila escapes the weight of the world entirely, while Gerald braves the wonder of seeing it up close. And Geraldine, well, Geraldine turns as terrifically terrible as she possibly can. Join the Grunions on adventures no child can resist! —Synopsis provided by Union Square Kids
How to Eat a Book is a quirky ode to the written word. Seemingly simple text is actually perfectly selected words that set the stage for some out-of-this-world illustrations. Done with dipped pen-and-ink cutout art, photographed in a three-dimensional stage diorama, and hand colored, the artwork in How to Eat a Book is phenomenal. It's a clever book that's sure to catch young readers' eyes.
While the publisher's suggested age range for How to Eat a Book is 3 to 8, I think it skews a bit too high. Kids on the older end of that range may read it once or twice, but will likely move on from there.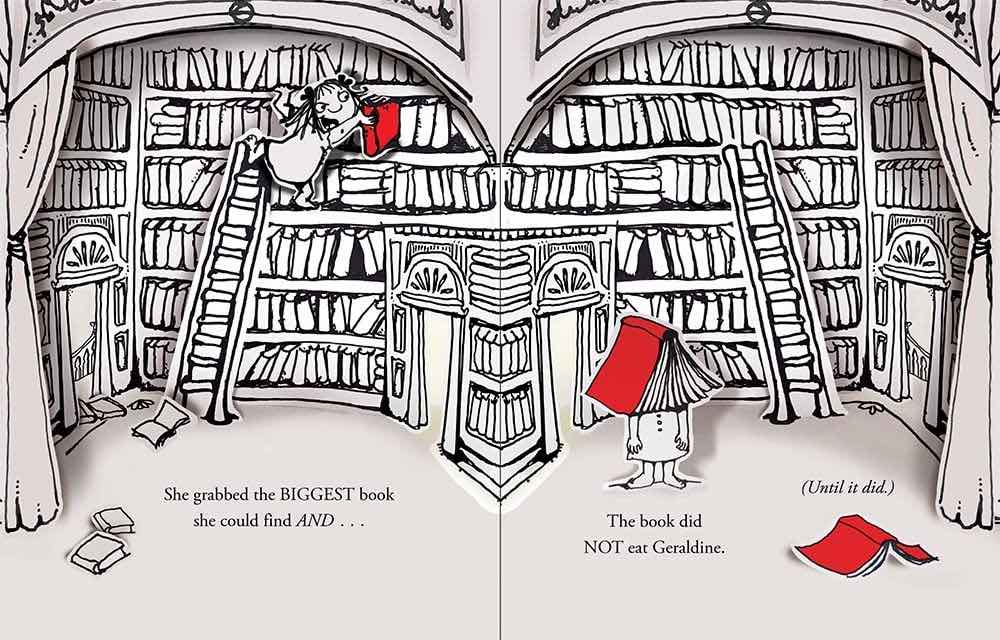 Copyright © 2023 Cracking the Cover. Unless otherwise noted, all books — digital and physical — have been provided by publishers in exchange for honest and unbiased reviews. All thoughts and opinions are those of the reviewer.