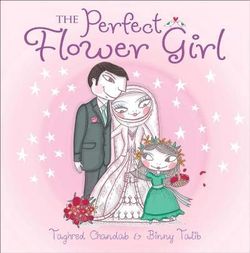 "PERFECT FLOWER GIRL," by Tahgred Chandab and Binni Talib, Allen & Unwin, Oct. 10, 2012, Hardcover, $16.99 (ages 5 and up)
Amani and Mariam are excited for their Aunty Sarah's wedding. They're going to be flower girls, leading the bride a groom. But there's lots to do before the big day — cooking with their grandmother, Tayta, visiting the dressmaker and dancing at the party with all the bride's friends.
Every day, Amani practices her flower-girl walk and each night, she counts down the days until the big event. The day of the wedding, Amani wakes with a fluttery tummy. The wedding party gets ready and the guests are waiting, will Amani be able to pull off her part of the evening?
"Perfect Flower Girl" is the story of a Lebanese Muslim wedding. It is not a traditional Muslim wedding, but one that incorporates traditions and influences from other cultures. A glossary of select Arabic terms is included at the beginning of the book.
There are a number of reasons to like "Perfect Flower Girl": It's got sweet illustrations and fun characters, and it introduces children to other cultures and religions. The book captures the excitement leading up to most weddings — Muslim, Catholic, Jewish, Christian, etc. Though some of the traditions and words may not be familiar, children will understand the underlying themes of love and acceptance.