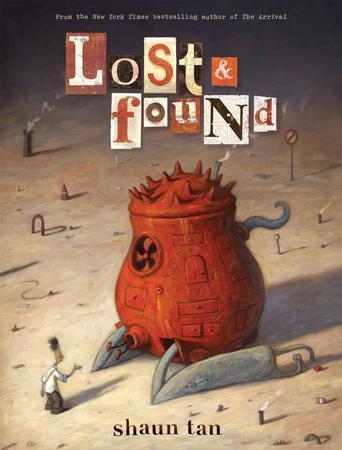 "LOST & FOUND," by Shaun Tan, Arthur A. Levine Books, $21.99 (ages 9-12)
"Lost & Found," by Shaun Tan is a beautiful picture book, but mostly it's a beautiful thinking book.
What do I mean by "thinking book"? I mean, his art and the words used in conjunction with it really make you think.
And while this idea may seem too complex for children, it's not. Minds open to imagination, youths often see and understand things better than adults.
"Lost & Found" is a compilation of three tales — "The Red Tree," "The Lost Thing" and "The Rabbits." Originally published in Australia, each story is presented in its entirety with new artwork and the authors' notes.
I believe each readers' experience is unique and what each person gains from a book is, too. Of the three stories, "The Red Tree" was the one that resonated with me.
"Sometimes the day begins with nothing to look forward to … nobody understands … then all your troubles come at once … sometimes you just don't know what you're supposed to do … but suddenly there it is right in front of you … just as you imagined it would be."
The images that accompany the text follow a young girl's day from her sitting alone in her bedroom to walking with a large shadow looming above and from her braving stormy seas to watching something beautiful pass her by.
It can be hard for children and adults alike to put into words the feelings of loss and alienation we sometimes feel. Tan brings those intangible feelings to life in the landscapes he creates. Through his art you see that hopelessness is not a singular feeling. Even though you may not know where you are, if you look, "suddenly there it is right in front of you bright and vivid waiting."
The book's other two tales tell the stories of a lost thing finding a place where it belongs and the crowding out of beings from where they belong.
Tan's art is complex and simple at the same time. It's easy to see the big picture, but upon further examination, you see much more. There are textures and layers that call upon the imagination and ring true to the heart.
I loved this book. I hope you will, too.