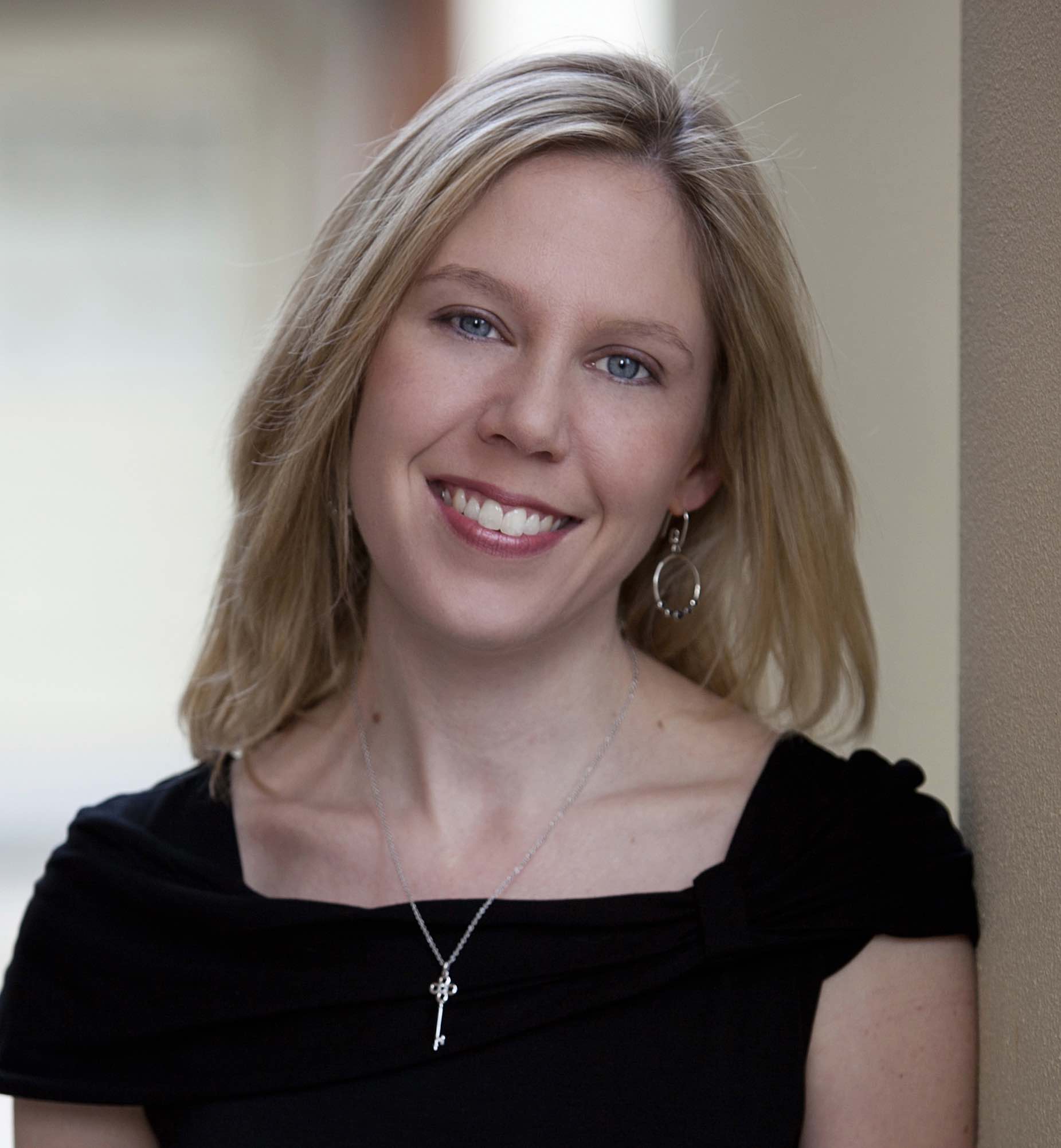 Stacy McAnulty has always believed she's her mom's favorite; her younger brother doesn't see it that way. Every child wants to be his or her parents' favorite, and Stacy's experience with her mom got her thinking.
Stacy's mom "would tease my brother and me," Stacy said. "We both wanted to be her favorite. She'd say to me, 'You're my favorite… (insert long pause) daughter.' Needless to say, I'm her only daughter. I simply wanted to be declared The Favorite. Capital T. Capital F."
This line of thinking inspired Stacy's latest picture book, Mr. Fuzzbuster Knows He's the Favorite. Mr. Fuzzbuster is Lily's cat, and he knew he was Lily's favorite. They did everything together. Naps. Story time. Walks. And more naps. Then four more animals moved into the house. To prove he's still Lily's favorite, Mr. Fuzzbuster will have to ask her, but will her answer surprise him?
When Stacy first imagined Mr. Fuzzbuster, the main characters were kids jockeying for favored status, but for some reason, the story never worked. Then Stacy changed to animals and magic.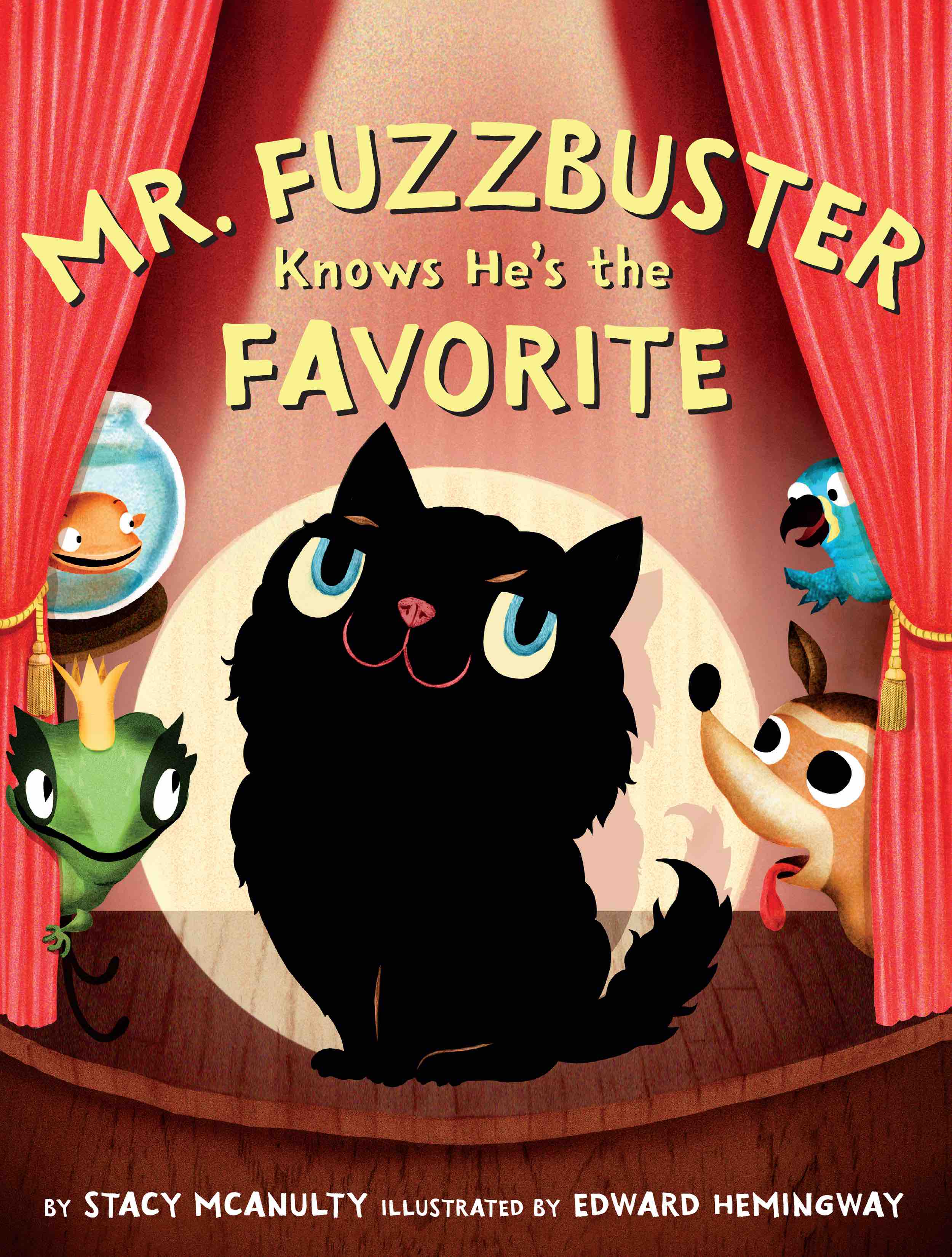 "The main character had to be a cat," Stacy told Cracking the Cover. "I love a cat's confidence. Dog and fish were the next 'obvious' choices. Maybe because I have dogs and a fish. The bird and lizard came last. I like a bird because they can sing, and in some case, talk. The lizard was originally a snake. My husband had a snake named King when he was a boy. But during editing, he was genetically re-engineered into a lizard. The crown fits him well."
Stacy is the author of picture, chapter and middle-books. They are all similar in that they all require Stacy to sit down and write. They all present challenges that make her question if they will ever work, but beyond that, the writing process is very different. Stacy uses detailed outlines for her chapter books and revises her outlines several times. Her novels, she says, are more organic. She writes 2,000 words per day for the first draft, and in order to keep the discovery process alive, doesn't allow herself a day off.
Her approach to picture books like Mr. Fuzzbuster is again different. "I often write picture books by long hand and during the revision, I like to create a dummy book — thirty-two pages stapled together filled with my stick-figure drawings," Stacy said.
Those stick figures give a sense of context, and yet, it's the illustrators and art directors that give each book its unique look. "For every picture book, the art is always different than I imagine. But it is ALWAYS better than I imagined," Stacy said. "Seeing the art for the first time on a book that I've written is a moment of joy. There are usually tears involved. For this book, I didn't picture Mr. Fuzzbuster all black. My cats have always been multicolored. But a fluffy all-black kitty works. His expressions — and his eyes — pop.
Stacy hopes that Mr. Fuzzbuster brings young readers joy and perhaps a little more. "I hope they laugh," she said. "A kid's laugh is my favorite sound. And maybe some kids will realize that having a favorite is silly. You can love lots of people and have many friends. You don't need a favorite. Except when it comes to ice cream. Then you should have a favorite. Such as coffee heath-bar crunch. Delicious."
---
*Learn more about Stacy McAnulty, including how her writing has evolved, by reading the complete transcript of her interview with Cracking the Cover.
---
STACY MCANULTY is certain she's her mom's favorite. Her younger brother disagrees. She's the author of Beautiful, illustrated by Joanne Lew-Vriethoff; Excellent Ed, illustrated by Julia Sarcone-Roach; and 101 Reasons Why I'm Not Taking a Bath, illustrated by Joy Ang. Originally from upstate New York, she now lives in Kernersville, North Carolina, with her three children, two dogs, and one husband. She doesn't have a favorite. You can find her online at www.stacymcanulty.com.
EDWARD HEMINGWAY is certain he's Stacy McAnulty's favorite illustrator, although the illustrators of Stacy's other books may disagree. Edward himself is the author and illustrator of the children's books Bump in the Night, Bad Apple: A Tale of Friendship, Bad Apple's Perfect Day, and Field Guide to the Grumpasaurus. Originally from Bozeman, Montana, he now lives in Brooklyn where he teaches creative writing at the master's level at SVA in Manhattan. If he has any favorite students, he'll never tell. Learn more about him online at www.edwardhemingway.com.
Did you know Mr. Fuzzbuster loves writing notes? He wants to send cards to young readers across the country.  Maybe he will be your favorite. More information can be found at http://www.stacymcanulty.com/fuzzbuster-email