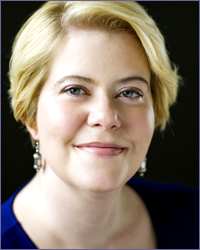 No one ever gets over being 16, says author Claudia Gray. "At any rate, I never have."
That's why she writes for young adults — that and the focus of YA on the evolution of one single character. Claudia finds the defining moments and choices that shape these characters' futures "endlessly fascinating both to write and to read."
Claudia has written more than 10 books for young readers, both anthologies and complete novels. Among her most popular books are the Evernight series and "Fateful." Her latest read, "Spellcaster," came out yesterday.
"Spellcaster" is Nadia's story. Nadia is a descendent of witches. When she moves to a new town with her father and brother, she instantly knows a dark spell has been cast over the entire area. Mateo, a town native who is waiting for his family curse to overtake him, befriends Nadia even though he fears the future he sees with her. Together they must work together to break Mateo's curse keep the town from crumbling.
"There are a lot of paranormal/supernatural stories out right now where a young person discovers her (or his) powers, some great destiny, etc," Claudia told Cracking the Cover. "Don't get me wrong — I love these stories and have written a couple of them myself! But I wanted to tell a story about a heroine who already knows her place in the supernatural world and who has worked really hard for all the magic she knows. I liked the idea of showing that kind of depth to the magic and the discipline it would take to wield those powers."
Witches are fascinating because they have THE POWER, Claudia says. "Yeah, we all love vampires, we all love werewolves — but there are such limitations on such creatures, always, whether in traditional or new mythologies, and part of the romance there is that they don't have control over their supernatural natures. That lack of control is really the whole point. Vampires are sexy and eternally young and immortal … but they must have blood, must shun sunlight, so on and so forth."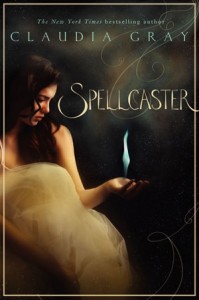 Witches on the other hand, are the masters of their own fates, Claudia explained. "They get to choose what spells to use, who will know about their magic and who won't. They can go anywhere and do anything. Surely we're all slightly drawn to the idea of having that kind of power. … Yet we also like to believe these powers might come at a price. Stories about witchcraft let you play with all the tangled feelings we have about power, especially female power."
Claudia did very little research leading up to "Spellcaster." She wants to be very clear that the book is only about a fantasy form of witchcraft — neither the historical versions, nor the demonic practices suggested in (invented for) the "Malleus Maleficarum," nor the modern religion of Wicca. "Virtually all of it came from my imagination," Claudia said. "And oh, I had so much fun coming up with a whole system of magic."
It took "Spellcaster" a number of years to come to fruition — Claudia got the idea, wrote the core and outline and then had to put it aside so she could finish other books. Now that it's completed, Claudia says it turned out much the way she outlined it, though a few surprises cropped up.
"The system of magic was something I worked out as I wrote, and it wound up not only being enjoyable but also a way to delve deeper into the characters," Claudia said. "Verlaine, who was created to be the trusty 'best friend,' wound up being such a distinctive voice — and having such a fascinating backstory — that she almost becomes a co-lead in the later novels of the trilogy. And the villain creeped me out more than I'd anticipated!"
Claudia is currently finishing up revisions to "Steadfast," the second book in the Spellcaster trilogy. After her tour to promote "Spellcaster" (she'll be at the Provo, Utah, library tonight), Claudia will start work on "Can't Get Next To You", the first novel in an upcoming science-fiction trilogy (the Firebird series) coming from Harper starting autumn 2014. The new series which is more "new adult" than YA features Marguerite, the daughter of two famous scientists — who pursues her father's murderer through parallel dimensions, through all the different lives she might have led.
Lauren Oliver — "Requiem"
Debra Driza — "Mila 2.0"
Claudia Gray — "Spellcaster"
Dan Wells — "Fragments"
Kiersten White — "Mind Games"
Guest appearance by Brodi Ashton — "Everbound"

Wednesday, March 6, at 7 p.m.
Provo Library
550 N. University Ave., Provo, Utah